This article covers how to list your business on Google Maps and achieve the top rankings in Google Maps. It is an invaluable tool that can help you attract new customers, stand out from the competition and increase your business, all at no cost. However, to enjoy these benefits, it is crucial that your profile has high visibility. Having a location in a certain area does not automatically guarantee that Google will rank you in searches related to that area so let's discover together how to appear and rank on Google Maps.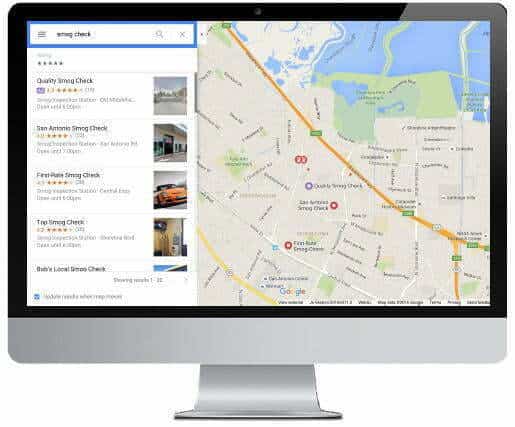 In this article we will address the following topics:
How to create your business profile on Google Maps if you haven't done it yet
How to add complementary information that increases your ranking and enhances your attractiveness
Optimizations you can apply to your website to further improve your ranking on Google Maps
1. Why appear higher on Google Maps?
Studies show that 67% of consumers prefer to use the Google Maps navigation application. In addition, since most consumers tend to stick with the first search results when looking for a place to visit, it is crucial to optimize your Google Maps listing to appear at the top of relevant searches.
The research also reveals that most consumers arrive at business listings on Google Maps through keyword searches (known as "discovery") 84% of the time, compared to direct searches for the business name. Therefore, it is critical that your business listing stands out on Google Maps for the search terms your potential customers use.
2. How to appear on Google Maps higher than the rest of the businesses?
Just as there are on-page and off-page optimization strategies for local website SEO, There are also optimization strategies inside and outside the company profile to improve your positioning on Google Maps. However, before implementing these strategies, it is essential that you appear on Google Maps and claim the company profile, an aspect that we will address below.
2.1. Add your business to Google Maps
It is impossible to appear higher or conduct successful marketing on Google Maps if you don't have a business profile on Google Maps in the first place. If you already have a business profile, you can skip this section. However, if you don't have a listing or are unsure, follow the steps below to add your business to Google Maps:
Go to Google.com/maps or open the Google Maps app on your smartphone and search for your business name.
If it appears in the drop-down menu next to a location, then you already have a listing! You can move on to the next section.
If your business name does not appear, you will see an option in the drop-down menu to "add a missing place".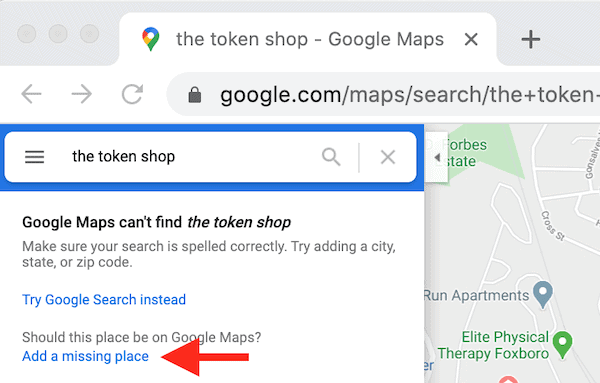 Once you click on that, you will need to enter the name, category and location of your business.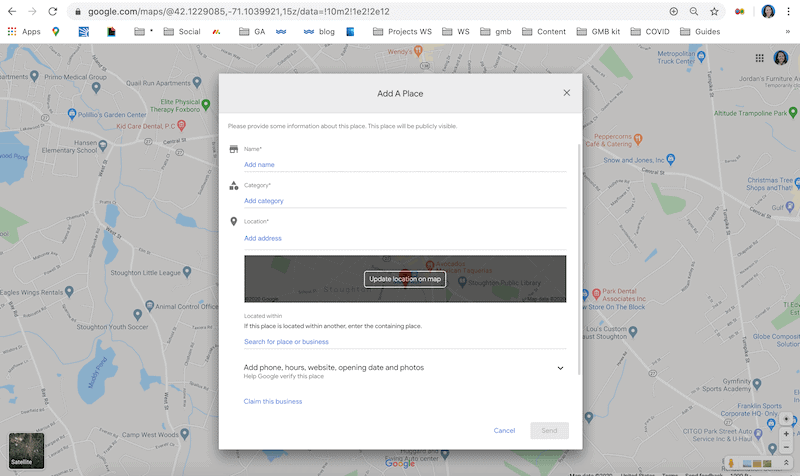 It is important to note that anyone in the world can add a business to Google Maps. Therefore, even if you have not created a listing yourself, it is advisable to check and make sure that there is no listing for your business already created. No matter who has added your business to Google Maps, that person has no control over the listing. Only the one who claims and proves ownership of the business has control over the listing.
2.2. If it already exists, claim your company profile on Google Maps
If your business is already listed on Google Maps, you can claim it: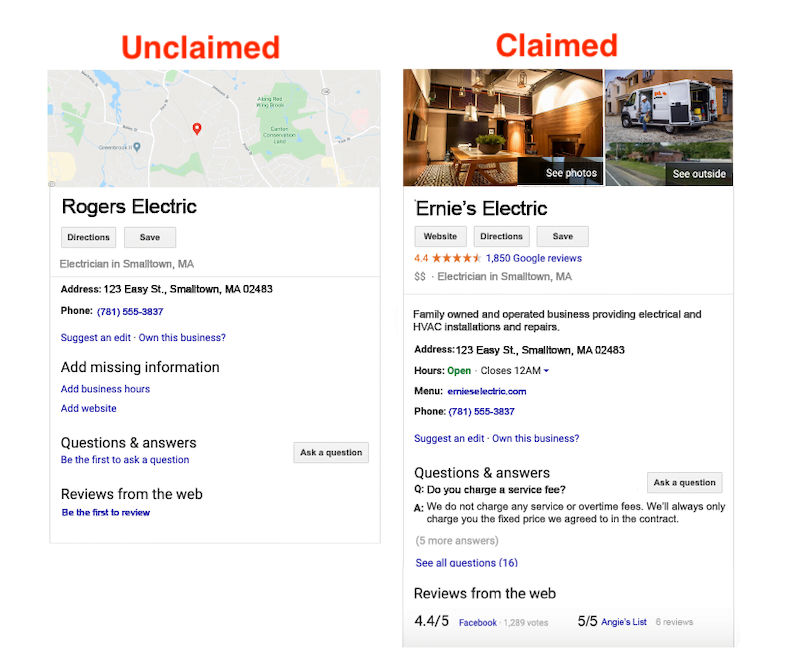 Before claiming your business profile on Google Maps, you need to have a free Google My Business. account. If you already have an account, you can access your business listing on Google Maps and select the option that says "Claim this business" or "Do you own this business?", following the instructions provided. In case you do not have a Google My Business account, you can refer to this article where we will guide you through the creation of an account and the process of claiming your business using that account.
2.3. Add information to the business profile on Google Maps
Now that you have a business listing on Google Maps and a Google My Business account associated with it, be prepared to optimize it and improve your ranking in local search results. As I mentioned earlier, providing more information in your listing will help improve your ranking in the results. To add more details log in to your account. You will see a dashboard with several tabs on the side.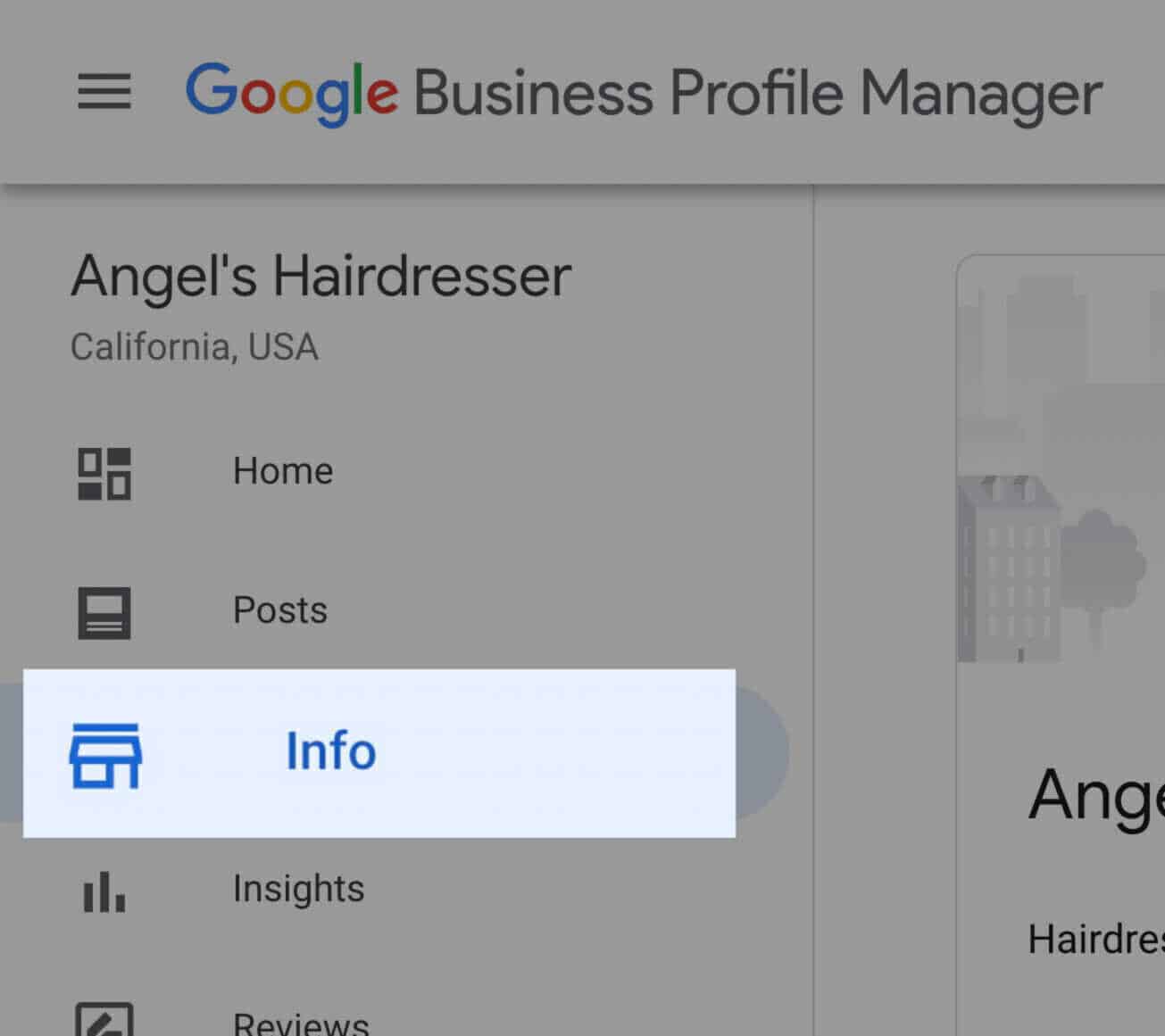 Click on the "Information" tab, which contains fields such as your business name, category, address, service area (if applicable), hours, special hours, phone number, website, products, services, attributes and description. In this link you have tips to optimize your Google My Business profile.
2.4. Add photos to your Google Maps business profile
Google finds it beneficial when you add images to your listing, as it shows that your listing is active and deserves a higher ranking in the search results. In addition, with advances in Google's image recognition technology, photos also show up in local search results. Also, keep in mind that consumers like to see photos, and as Google seeks to cater to consumer preferences, adding images to your listing can be beneficial. If you do not add photos, a generic map image will be displayed.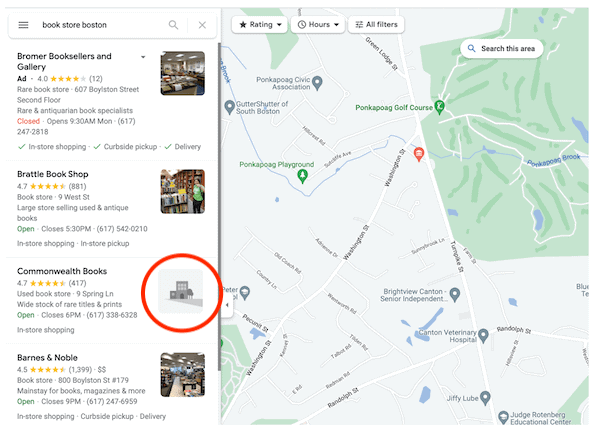 Google Maps business listings without photos are less attractive to consumers and may not be able to appear as high as listings with photos.
2.5. Get Google reviews
Considering that Google values what customers appreciate, it's no surprise that Google Maps prioritizes ranking business listings with positive reviews. So how can you get more reviews on Google? Well, by creating a business listing on Google Maps, you automatically enable the ability to receive customer reviews.
Reviews can generate some apprehension, but unless your business's service is really bad, bad reviews tend to be few and far between. In addition, by responding appropriately, you can reduce and even reverse the impact of a negative review.
2.6. Consolidate your Google Maps listings
Google will penalize businesses that have multiple phone numbers or locations listed for the same business. It is important to remove duplicate listings and any irrelevant information to ensure that your one legitimate listing gets a proper ranking.
You can read more about NAP Consistency (Name, Address, Phone) and how it is critical for Google that these three pieces of information match not only on Google and Google Maps but also on other platforms such as TripAdvisor.
2.7. Post regularly on your profile
Just like on Facebook, you have the option to make posts that will appear directly on your business listing on Google Maps. By posting regularly in this way, you are sending signals to Google that you are actively managing your list, which is considered in your rankings. Additionally, when consumers search on search engines, their intent is high, so through posting on Google, you can show your offers to an audience that is ready to interact.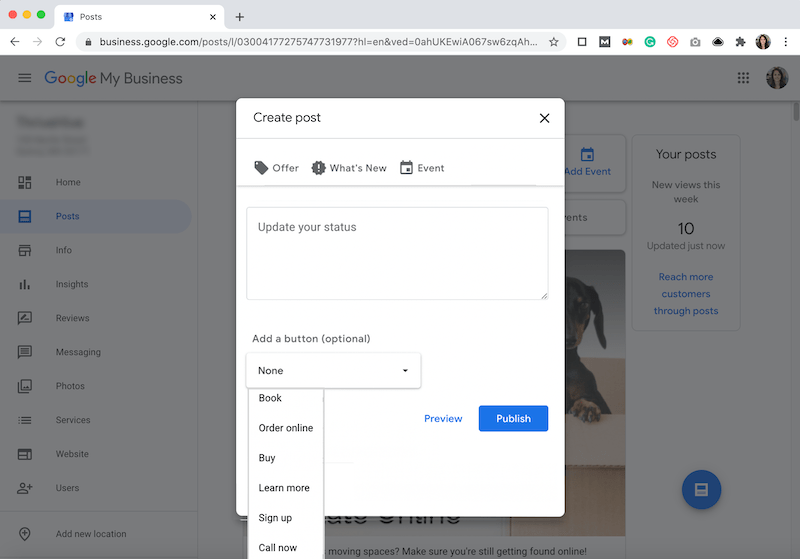 2.8. Ensure your website is compatible with mobile devices
It is important to make sure that your website is mobile friendly, meaning that it works properly on any device or screen size. This is important because Google Maps business listings include a link to your website, and most Google searches are conducted on mobile devices. If your listing directs users to a website that doesn't adapt properly, has broken links, or has loading issues, it will negatively affect your Google Maps ranking.
2.9. Add keywords to your website
The second way to leverage your website to improve its position and appear higher on Google Maps is by targeting local searches. Not only will this help your website rank better in Google search results, but it can also influence the ranking of your business listing on Google Maps.
Therefore, it is important to incorporate location-related keywords on the main pages of your website, such as the home page, About Us page, contact page, product and services page, and even in blog posts. Don't just include keywords in page titles, but also in headings, text content, image tags, subheadings and URLs.
3. Add Google Maps to your website
The final strategy if you are wondering how to appear higher on Google Maps is to add Google Maps to your website, usually on the contact page, as many businesses tend to do. By embedding it, you are telling Google the location of the business as shown in your listing. Be sure to use the same address that you have on your Google Maps business profile.
To embed Google Maps on your website, search for your business name on Google Maps. Then click on "Share" in your profile and select the "Embed a map" option. Copy the link provided and paste it into the contact page of your website.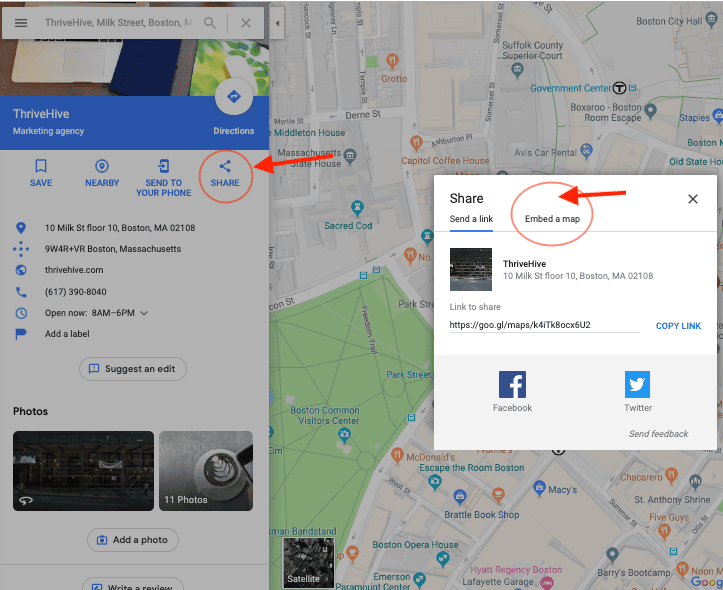 We hope this article has helped you understand how to appear on Google Maps to help your business or personal brand get more sales.
4. Keep learning with these articles
Hopefully, by now you have a solid understanding of how to use Google Maps by following the steps outlined above.