Even if it's been years and they are clearly unfair, negative reviews can still affect your results. So what can you do about it – is there a way to turn off bad Google reviews?
The quick answer is: "Yes, you can turn off some Google reviews."
The longer answer, however, is more nuanced than a simple "Yes." Below, we'll walk you through the only four ways to remove negative reviews from Google search results. Plus, we'll tell you the only guaranteed way to counter negative reviews, even if you can't remove them.
When we're done, you'll know exactly how to improve your brand's online reputation on the world's most popular search engine.
1. Disable inappropriate Google reviews
There are people who simply like to cause trouble. Often, it is these same people who are behind negative, inappropriate or even fake reviews on Google about businesses, both large and small.
Fortunately, Google has put steps in place to disable or remove this type of content once and for all (or at least until the next time it happens). Google does not allow the following types of content to be posted on Google Reviews, Google Photos or Google Videos:
Civil discourse
Harassment
Hate speech
Offensive content
Personal information
Misleading content
False commitment
Interpretation
Misinformation
Misrepresentation
Adult content
Profanity and profanity
Sexually explicit content
Violence and gore
Regulated, dangerous or illegal content
Restricted content
Dangerous content
Illegal content
Child safety
Terrorist content
Information quality
Out of context
Advertising and solicitation
Incomprehensible and repetitive content
Unfair marketing on Google Reviews
If someone has written a review about your business that includes any of the inappropriate content listed above, you can request that it be removed from Google's search results.
1.1. How to remove inappropriate content from Google reviews
Step 1: Check Google's policy. This way, you can be 100% sure that the material in the review is not allowed by Google's inappropriate content policy.
Step 2: flag the review in your account. This is the step-by-step process to request removal of an inappropriate review from Google:
Step 3: mark content as inappropriate on a desktop computer.
Sign in to the Google Business Profile Manager.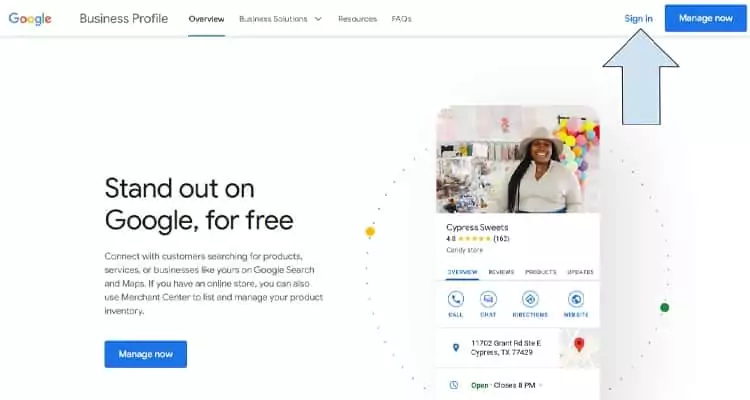 Open the list you want to manage and click on Reviews.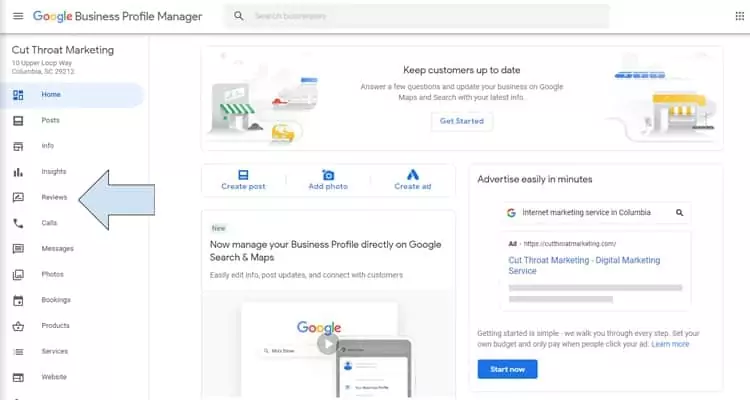 Click on the 3 small dots at the top right of the review you wish to mark and select "Mark as inappropriate".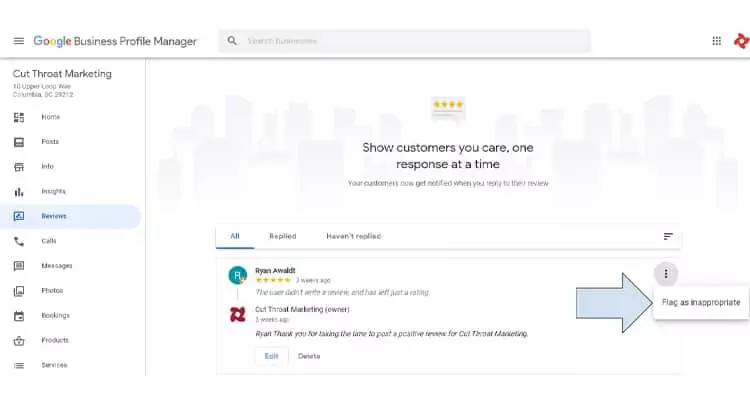 Select the reason to mark the content as inappropriate.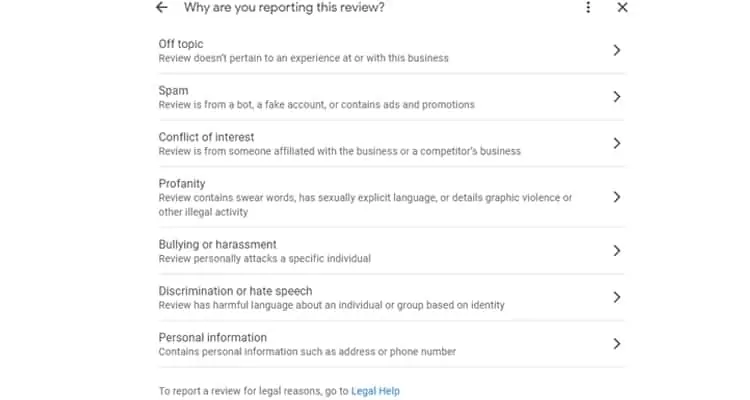 Wait up to 3 business days for resolution.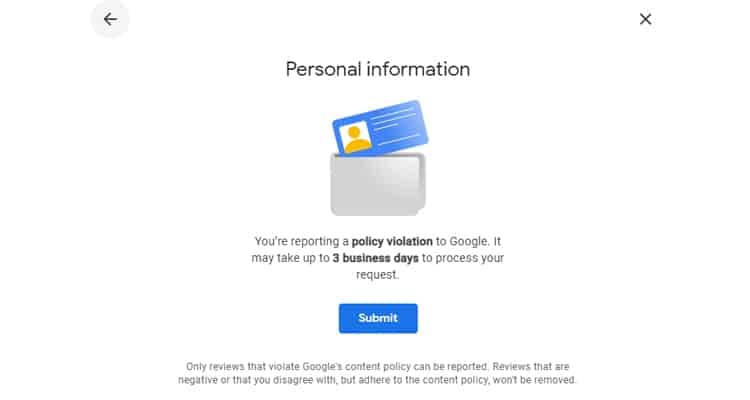 To flag inappropriate review content on a phone or tablet:
Open the "My Business" app.
Tap "Customers" and then "Reviews."
Tap "More" and then "Mark Review".
To mark inappropriate review content on Google Maps:
Open Google Maps on your computer.
Navigate to your company listing.
Find the review you want to remove.
Click "More" and then "Mark as inappropriate".
Remember that, as Google advises, the last step in every case is to be patient. It may take several days for someone from Google's content review team to evaluate each flagged item.
Read more about this topic at: Step-by-step guide to remove Google reviews
2. Requests the customer to edit or remove a negative review
Responding to negative reviews takes a little extra time and energy, but this method of removing negative reviews from your company is super beneficial in the long run.
When you do, you're going to eliminate a bad review and possibly turn an angry customer into a super fan of your brand forever. Here's a step-by-step guide on how to make the best of an unfavorable situation:
When you come across an ugly review of your business on Google Reviews, first stop and think hard about the customer's point of view.
Ask yourself questions like: What exactly are they complaining about, and is there anything you can fix now that you know about the problem?
Once you've assessed the situation and made sure the review is not false or inappropriate, the next step is to respond directly to the customer on Google.
There is no exact formula for what to say, but what is important is the following:
Acknowledge and mention the problem raised by the customer. For example: "It looks like you had difficulties with the product you purchased".
Express that you would also be upset if the same thing happened to you. For example: "I would be frustrated if that happened to me, too.
Assure her that you are willing and able to solve the problem as quickly as possible. For example: "I'd love the opportunity to get it right. Let us know the best way to get you a product that works."
Avoid the temptation to be scathing or sarcastic (even if the customer is wrong). Your answer will be visible to everyone and future customers will take it as a sign of your brand.
After sending your response to the customer, the last step is to wait for their response (i.e. be patient… again). Hopefully, you'll get a response and you can start a conversation to better understand what went wrong and how to fix the relationship.
Once you've addressed the problem with the customer, you can ask them nicely to edit or delete their negative Google review. If you've been successful up to that point, it's highly unlikely that they'll reject your polite request.
3. Send a tweet to @GoogleSmallBiz
If you've tried all of the above and nothing worked, you can always go to the classic method of venting: On Twitter!
Let's say you already flagged the review as inappropriate, but you didn't get a response. Maybe you even replied to the reviewer, but you didn't hear back.
When you've done all you can, it doesn't hurt to complain publicly on Twitter and let Google know what you think. Everyone can see the tweets Google receives, so it's your responsibility to address those concerns when they arise.
Just don't tweet directly to @Google, there's a better option. Instead, tweet your situation to @GoogleSmallBiz. Be sure to follow them too, so they can send you direct messages to solve your problem.
If you have screenshots, attach them to your tweet or direct message (with a brief description and a link) to Google Small Business. This will help them better understand your issue and address it directly and quickly.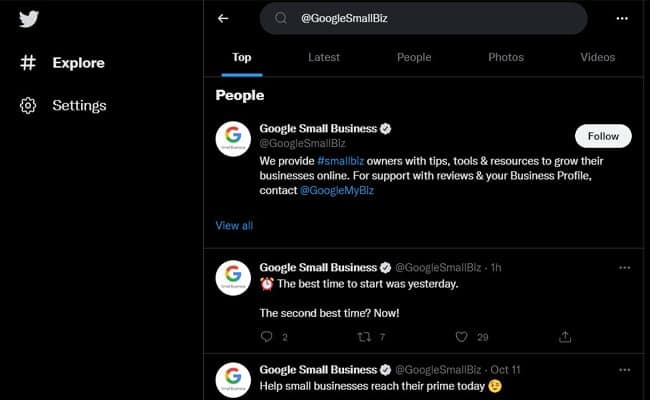 4. File a request for legal removal
There is one last option to get rid of those bad Google reviews about your business, but be warned that it only works in very specific cases. Google allows you to make a formal request to remove the content if it is illegal.
To report an illegal review, you have to go to the Content Removal Tool and select Google Business Profile Manager. There, Google will ask you a series of questions about the review and your specific complaint about its content.
Google takes these complaints very seriously, and rightfully so. If you submit one of these reports, you're basically alleging illegal activity or irregular behavior, so Google has to follow all the necessary steps and protocols to properly address the issue.
Remember, to improve your online presence and stand out on Google and Google Maps, having a review and customer experience management strategy can make all the difference. You can count on RAY, a comprehensive solution that can help you improve your Google reviews, rank high in search results and provide an exceptional customer experience.
5. Keep learning with these articles
Hopefully, by now you have a solid understanding of how to disable Google reviews, you can continue reading more articles that will help your brand or business on our Blog.