Companies that successfully implement a customer experience strategy achieve higher levels of customer satisfaction, reduce customer churn and increase revenue. The focus on customer experience has evolved beyond simple customer service, incorporating new ways to strengthen customer relationships through technology. Customer expectations are increasing at a faster rate than companies' ability to improve their experiences. Customers expect every interaction, from start to finish, to be the best experience they have ever had with any company.
In this article we will show you how you can scale your company's revenue and achieve profitability by implementing customer experience strategies.
1. What is customer experience?
Customer experience, or CX, is defined by the interactions and experiences that customers have with a business throughout their journey, from first contact to becoming satisfied and loyal customers.
CX is a fundamental element in customer relationship management (CRM) and its importance lies in the fact that customers who have a positive experience with a company are more likely to become loyal and recurring customers.
In fact, according to a global CX study conducted by Oracle, it was found that 74% of senior executives believe that it influences a customer's willingness to become a loyal advocate. If you want your customers to remain loyal, it is critical to invest in their experience!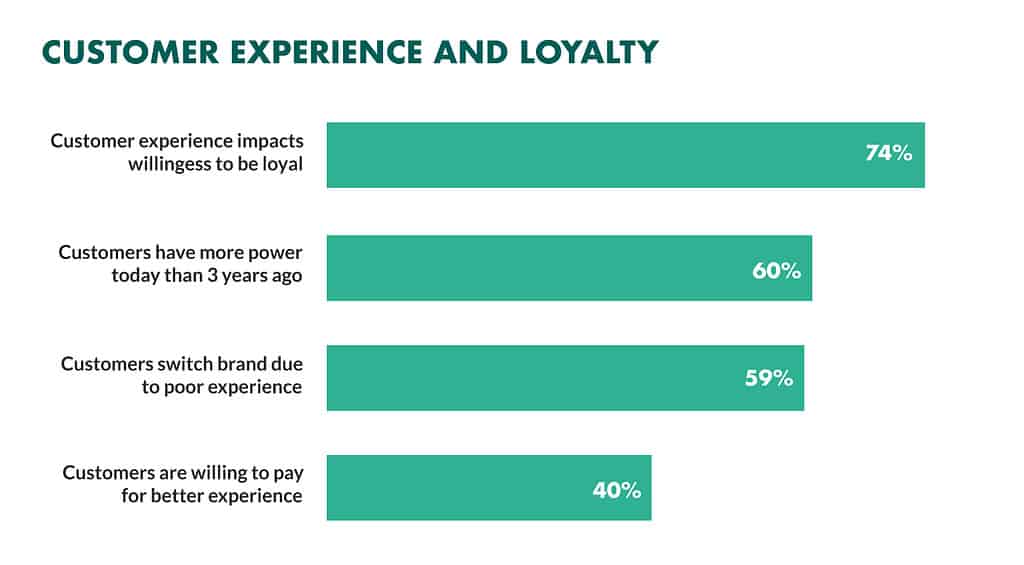 2. Is customer experience the same as customer service?
No, and here's why. In most cases, the first contact a customer has with a company occurs through interaction with an employee, either by visiting a store or talking on the phone. This gives the company the opportunity to provide excellent customer service.
For example, when booking a vacation over the phone, good customer service is noticed when the person who answers the phone is friendly and helpful.
However, an exceptional customer experience goes much further. Like many things in today's marketplace, has evolved. It goes beyond a person-to-person interaction and, thanks to technology, companies can connect with their customers in new and exciting ways.
For example, through the use of customer relationship management (CRM) software, it is possible to view the customer's purchase history and predict future needs even before the customer is aware of them. This ability to predict future needs allows you to be proactive, attentive and take actions such as:
Offer related products based on purchase history.
Create and send targeted email marketing campaigns.
Obtain a complete 360-degree view of the customer.
Customer service remains as important as ever, but it is no longer the sole focus of customer experience. The following table details the key differences between both of them: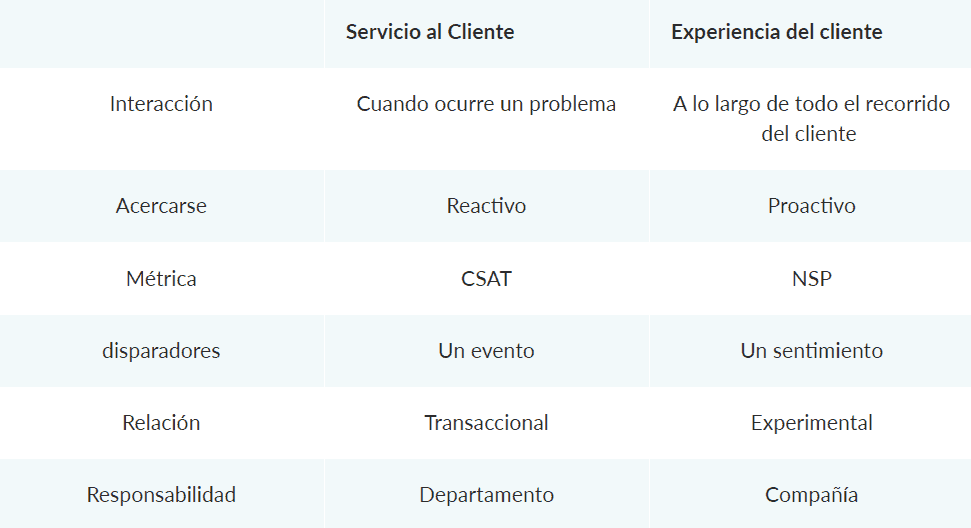 3. Strategies to improve customer experience
Let's explore some approaches to developing outstanding customer experience strategies that help improve customer satisfaction, reduce churn and increase revenue.
3.1. Create a clear vision of the customer experience
The first key step in your customer experience strategy is to have a clear, customer-centric vision that can be communicated throughout your organization. An effective way to define this vision is to create a set of statements that serve as guiding principles.
Once these principles are in place, they will influence the behavior of everyone on your team. It is essential that every member knows these principles by heart and that they are integrated into all aspects of company training and development.
3.2. Understand who your customers are
The next step in developing customer experience principles is to bring to life the different types of customers your customer service teams interact with. To truly understand the needs and wants of customers, it is important that your organization can connect and empathize with the situations they face.
One way to do this is to segment your customers and create customer profiles or fictional personas. Assign each persona a name and a distinctive personality. For example, Anne, 35, is tech-savvy and knowledgeable enough to follow a video tutorial on her own, while John, 42, needs clear instructions on a Web page.
3.3. Create an emotional connection with your customers
Ever heard the expression "it's not what you say, it's how you say it"?
Well, the most memorable experiences for customers occur when a member of your team manages to establish an emotional connection with them.
Research conducted by the Journal of Consumer Research has shown that more than 50% of the customer experience is based on emotion, as emotions influence attitudes that drive decisions.
Customers become loyal when they feel emotionally connected and remember how they felt when using a product or service. A business that prioritizes this emotional connection outperforms its competitors by 85% in sales growth.
3.4. Captures customer feedback in real time
How can you know if you are providing an excellent customer experience?
The key is to ask, preferably by capturing real-time feedback. Use live chat tools to have real-time conversations and, once the interaction is complete, send follow-up emails to each customer with post-interaction surveys and other customer experience tools.
3.5 Measure the ROI of delivering a great customer experience
One of the most important, how can you know if all the investment in your equipment, processes and technology is working and getting results? The answer lies in the business results.
Measuring customer experience is one of the biggest challenges for organizations, which is why many companies use the "Net Promoter Score" or NPS, which gathers valuable information by asking a simple question: "How likely are you to recommend us?"
Read more about: Complete guide to NPS
3.6. Customize the experience
Did you know that approximately 40% of consumers would like to see ads tailored to their interests?
You can significantly improve customer satisfaction by tailoring experiences to each customer's specific needs and preferences.
We recommend using customer data and analytics to collect information about your customers' previous interactions, preferences and purchase history. Use this information intelligently to personalize your communication, recommendations and targeted offers.
We hope this article has helped you understand how you can improve the customer experience through these important keys.
Remember, to improve your online presence and stand out on Google and Google Maps, having a review and customer experience management strategy can make all the difference. You can count on RAY, a comprehensive solution that can help you improve your Google reviews, rank high in search results and provide an exceptional customer experience.
4. Keep learning with these articles
Hopefully, by now you have a solid understanding of all things related to customer experience, you can continue reading more articles that will help your brand or business on our Blog.