1. What is a franchise?
A franchise is a type of agreement that allows one person (franchisee) access to the know-how, processes and trademarks of another company (franchisor). This allows the franchisee to sell products or services under the franchisor's trade name. In exchange for obtaining a franchise, the franchisee generally pays the franchisor an upfront fee to start the business and also pays annual fees for the use of the license.
When a company seeks to expand its market share or expand its geographic reach in a cost-effective manner, it may choose to use the franchise model for its product and brand. Franchising is a business partnership between the franchisor and the franchisee. The franchisor is the original business that sells the rights to use its name and idea, while the franchisee acquires these rights to sell the franchisor's products or services under an existing business model and brand.
2. The structure of a franchise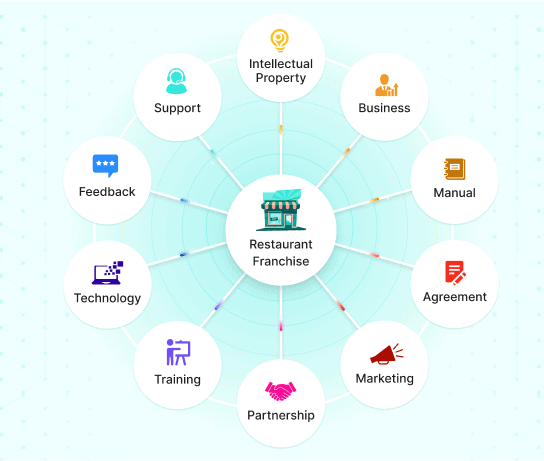 Franchising is a popular option for entrepreneurs who want to start a business, especially when entering a highly competitive industry such as fast food. A great advantage of purchasing a franchise is that you gain access to the brand name of an established company. This means there is no need to invest resources in getting the name and product out to customers.
3. Pros and cons of franchising
3.1. Advantages
Recognized advantages include access to a ready-to-implement business formula. A franchise provides market-tested products and services, and in many cases, established brand recognition. For example, if you are a McDonald's franchisee, decisions have already been made about what products to sell, how to design your store and even how to design your employees' uniforms. Some franchisors also offer training, financial advice and a list of approved suppliers. However, although franchises provide a formula and a track record, success is never guaranteed.
3.2. Disadvantages
Disadvantages include high start-up costs and ongoing royalty fees. Using McDonald's as an example, the estimated total cost to start a McDonald's franchise ranges from $1 million to $2.2 million. By definition, franchises require the payment of ongoing fees to the franchisor, usually in the form of a percentage of sales or revenue, which can range from 4.6% to 12.5%, depending on the industry.
In the case of emerging brands, there is a risk that they will present inaccurate information and boast unproven ratings, rankings and awards. This can lead to franchisees paying large sums of money for little or no franchise value. In addition, franchisees may be limited in terms of control over territory and creativity in their business. Obtaining financing from the franchisor or other sources may be difficult. There are also other factors that can affect any business, such as poor location or inadequate management.
4. Franchise vs Startup
If you don't want to run a business based on someone else's idea, you have the option of starting your own. However, starting your own business comes with risks, but it also offers both financial and personal rewards. When you start your own business, you are on your own and there are many unknowns: "Will my product sell?", "Will customers like what I offer?", "Will I make enough money to survive?".
The failure rate for new businesses is high. Approximately 20% of new businesses do not survive the first year, about 50% make it to year five and only 30% are still in business after ten years. If your business is going to beat the odds, only you can make it happen. Turning your dream into reality requires working long, hard hours without support or expert training. If you venture out on your own with little or no experience, the odds are against you. If this sounds like too much of a burden, the franchise option may be a better fit.
People often buy a franchise because of the success stories of other franchisees. Franchising offers cautious entrepreneurs an established and proven model for running a successful business. On the other hand, for entrepreneurs with a great idea and a solid understanding of how to run a business, launching their own startup gives them the opportunity for personal and financial freedom. Deciding which model is right for you is a choice only you can make.
5. Points to evaluate when analyzing the purchase of a franchise
In the following infographic we include the 8 points to analyze when evaluating buying a franchise: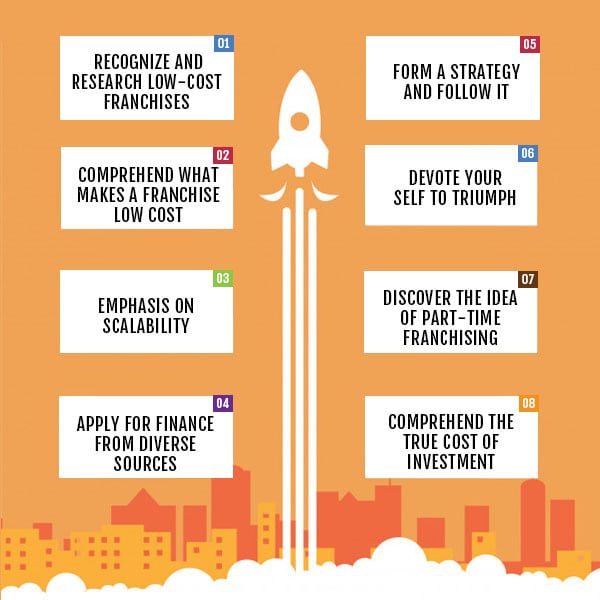 6. How does the franchisee make money?
Typically, a franchise agreement involves three types of payments to the franchisor. First, the franchisee must acquire the rights to use the franchisor's trademark by paying an upfront fee. Second, the franchisor often receives payment for providing training, supplying equipment or providing business advisory services. Finally, the franchisor receives ongoing royalties or a percentage of sales generated by the operation.
We hope this article has helped you understand what a franchise is, what its advantages and disadvantages are and how you can make money with them.
Remember, to improve your online presence and stand out on Google and Google Maps, having a review and customer experience management strategy can make all the difference. You can count on RAY, a comprehensive solution that can help you improve your Google reviews, rank high in search results and provide an exceptional customer experience.
7. Keep learning with these articles
Hopefully, by now you have a solid understanding of what a franchise is, you can continue reading more articles that will help your brand or business in our Blog.