This article is a step-by-step tutorial to teach you how to remove reviews from Google.
1. How to remove reviews from Google
In this article, we will provide you with instructions on how to remove a review from Google, or at least how to try. While there is no straightforward and simple option to remove a review, especially if you are not the author of the review, there are several ways to approach this problem. One option is to report the review to Google that violates its content policy, which is the most common and obvious method of attempting to remove it.
1.1. How to remove Google Reviews on your computer:
Log in to your Google account on your computer.
Go to business.google.com
In the left navigation bar, select "Reviews".
Select the "More" icon (three horizontal dots) next to the review you want to flag
Select "Mark as inappropriate"
Click on the reason you are flagging the review.
Click "Submit"
1.2.How to remove Google Reviews on Android:
Open the Google Maps application on your Android device.
Click on your profile picture in the upper right corner and navigate to your business profile.
Tap "Reviews."
Find the review you want to report.
Click "Report Review."
1.3. How to remove Google Reviews on iPhone and iPad:
Open the Google Maps app on your iPhone or iPad.
Click on your profile picture in the upper right corner and navigate to your business profile.
Tap "Reviews".
Find the review you want to report.
Press "Report review".
2. How to remove reviews you left on Google
Have you ever left a bad Google review for a business and then had second thoughts? If you want to remove or edit a review you left, follow the steps below:
2.1. Edit a review from your browser:
Sign in to your Google account.
In the menu on the left, scroll down until you find the relevant review
Click on the "More" icon (three horizontal dots).
From there, you can select "Edit" or "Delete".
2.2. Edit a review from the Google Maps application:
Open the Google Maps application
From the menu at the bottom of the screen, select "Contribute".
Click on "View your profile" next to your profile picture at the top of the screen.
Scroll down until you find the relevant review.
Select the "More" icon (three horizontal dots).
Select your preferred action (Edit or Delete)
3. Is it possible to delete reviews that someone left you?
In summary, yes, it is possible to face situations where false or defamatory reviews arise, so it is important to know how to remove reviews from Google. There are steps you can take if you believe your company has been harmed by a review or if you suspect the review is false.
The good news is that you can challenge a Google review. However, this process is not easy and success cannot be guaranteed.
Unfortunately, removing a review from Google is not as simple as logging into your account and deleting the review yourself. Instead, you need to contact Google and point out the review, in the hope that they will remove it, but there is no guarantee that they will honor the request and remove the review.
4. Types of reviews that Google will remove
According to Google's prohibited and restricted content policy, there are five general reasons why a review may be removed: civil discourse, misleading content, adult content, regulated, dangerous or illegal content, and quality of information.
It is important to note that these reasons are not limited to reviews only, but also apply to other types of content, such as photos and videos.
Within these categories, Google's policy lists 20 specific reasons why content, including reviews, will be removed. Some of these reasons are:
Civil discourse

Harassment
Hate speech
Offensive content
Disclosure of personal information

Misleading content

False commitment
Misinterpretation
Misinformation
Misrepresentation

Adult content

Profanity and profanity
Sexually explicit content
Adult content
Violence
Blood

Regulated, dangerous and illegal

Restricted Content
Dangerous content
Illegal Content
Child safety
Terrorist content

Information quality

Out-of-context content
Advertising and solicitation
Incomprehensible and repetitive content
5. Examples of reviews eligible for removal
A disgruntled employee calling his boss names
An actual customer using slander/offensive language when describing the business
A competitor leaving a fake review promoting their own business
A review that has nothing to do with the business and was posted to the wrong listing by mistake
A false review posted to cause the business to rank higher or lower
6. What to do if you cannot delete a review
Not all reviews can be removed, and sometimes Google may choose not to remove a review, even if it feels it should be removed. However, there are some actions you can take to reduce the negative impact of an unfavorable review:
6.1. Reply to Google review
If a negative review is legitimate, one of the first steps you should take as a business owner is to respond to the reviewer. In some cases, the customer may decide to remove the review from Google on their own.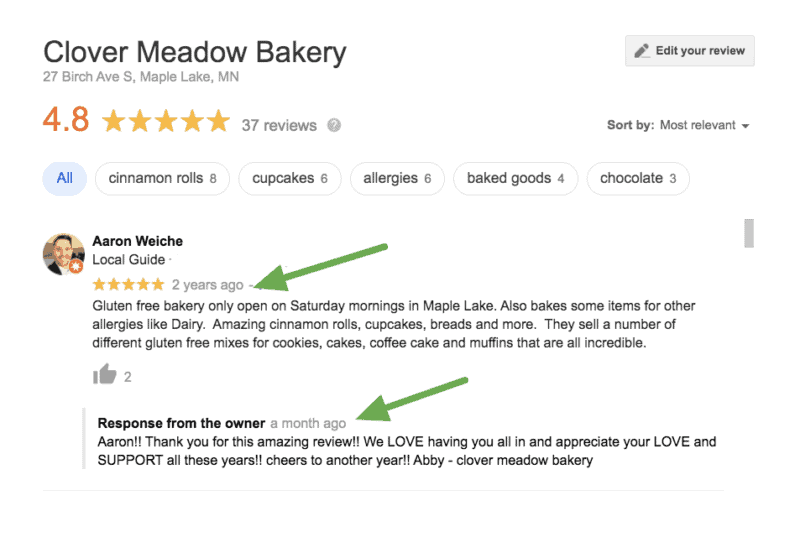 At the very least, by responding, you can mitigate the damage, as other potential customers will see your side of the story and get a sense of your skills in dealing with customers.
However, you should never ask a customer to remove a legitimate negative review of your business unless it violates Google's content policies. Here are some tips to keep in mind when responding to a negative review:
Be polite in your response.
Do not become defensive or take it personally.
Offer apologies if necessary and show a willingness to rectify the situation.
Keep your response brief and concise.
Suggest taking the conversation to a private channel, such as text message or e-mail.
7. How to respond to a Google review
Not sure how to log in to respond to the review? Google simplifies the process. Follow these steps:
First, make sure you have claimed your business profile, which involves signing up with Google as an owner. This will allow you to access your business listing in Google search results, edit information such as website or hours, and respond to reviews.
Claim your business listing by visiting google.com/business and entering your business details. Sign in to your Google My Business profile (you will set up this account in the first step if you have not already done so) and select the specific location (if you have multiple) with the review you wish to respond to.
From the menu, choose "Reviews" and then click "Reply" next to the review you wish to address.
Compose your response and click "Submit".
8. How to contact Google small business support
Log in to your Google account
In the first drop-down menu, select the relevant business
In the field below, describe what you want to do (i.e., "remove a review")
From the list below, select "remove reviews".
Click on "Next step".
Select your preferred contact option
Unfortunately, it may take several weeks for Google to get back to you, but you will eventually receive an email with the tracking number of your request. Once you have submitted your request, it is also advisable to have a screenshot of the review in question handy, in case you need to refer to it.
Another option is to send a tweet to the Google Business Profile team (@GoogleMyBiz) from your company's Twitter account. Someone may reply to you and they can continue communication from there. You can also search and ask for advice on removing reviews in the Google Community Support forum.
9. Final Steps
When a member of the support team contacts you, it will be your responsibility to explain why you believe the review should be removed. Be prepared to argue why you believe the review is false or violates policy, and support your request for removal.
In some cases, the support team member may inform you that they will escalate the review to a specialist who will make a final decision. In that case, you should expect an email confirmation or phone call from the support team member. Hopefully, you will receive good news.
10. How to minimize negative reviews
To minimize the importance of negative reviews, you can try these strategies:
Respond to negative criticism in a calm and clear manner.
Try to resolve the situation amicably and then politely ask the customer if they would be willing to update their negative review to reflect a subsequent positive experience.
Solicit and encourage more positive reviews from other customers, which will help push the few negative reviews to the bottom of the search results.
It is important to recognize that it is impossible to have 100% 5-star reviews for any business. There will always be customers who have had a less than satisfactory experience. These reviews should not necessarily be eliminated, but you also don't want them to carry significant weight when people are considering becoming your customers.
11. How bad are "bad" reviews for your business?
In general, it is completely normal to have both positive and negative reviews on Google. In fact, having some negative reviews along with mostly positive ones can be beneficial, as it shows that you are a real business and haven't just asked friends and family to write nice things about you. Even the highest rated businesses in your area may have a small percentage of negative reviews. Sometimes, you simply can't please everyone and there are things beyond your control.
In fact, studies have shown that a perfect average rating of 5 stars does not generate as many conversions as an average rating of 4.9. In other words, a small percentage of negative reviews probably won't discourage customers from choosing you over a competitor.
That said, in the case of a fake review or a review that violates Google's content policy, it is advisable to remove it.
12. Keep learning with these articles
Hopefully, by now you have a solid understanding of how to remove reviews from Google by following the steps outlined above. Remove a bad Google review and get your business back on track.