Reviews and testimonials are crucial elements of any business. Before investing money in a product or service, customers like to check if they are partnering with the right company, and quality reviews, highlighted with 5 stars, play a key role.
A bad review is not what we expect and one of the primary places people look for reviews is Google. For your business to succeed, it's essential not only to get more reviews on Google, but also for loyal customers to leave high-level ratings that provide a complete picture of everything your business has to offer.
More Google reviews for your business means more trust with customers and leads generated, so let's start putting together your new review strategy!
1. Why is it important to get more reviews from Google?
Google represents one of the most prominent sources on the web for seeking social validation related to a business and determining whether or not a customer is willing to continue.
In fact, 90% of consumers check Google before visiting or purchasing from a business.
Here are some ways in which Google reviews can benefit your business:
1.1. They build trust for your business.
Customers will only choose you if they are confident that you are the ideal solution for their needs. Whether it is a product or a service, trust and transparency play a key role in influencing the buying process. In addition, 93% of people consult online reviews before making a purchase.
Customer reviews on Google can assist prospective buyers in gathering additional information about the effectiveness of your product, the level of customer service provided and whether it actually meets their requirements.
Consumers tend to trust honest reviews and comments shared by other customers more, rather than brand claims, due to the fact that they consider reviews to be unbiased and therefore more trustworthy.
Positive reviews on Google and how you respond to them have the potential to build consumer trust in your brand.
Read more about: Responding to reviews improves Google ranking
1.2. Google reviews can increase online visibility through SEO
Google reviews are an integral part of Google business profiles, a free service for businesses. They are one of the most effective strategies to expand your online presence without having to invest money in paid advertising.
For example, if you have a digital marketing agency and have optimized your profile for local SEO, your business will be easily found.
In addition, positive reviews on Google can increase the chances of being listed in relevant local search results, especially for searches that include the word "best". For example, when someone searches for "best gym near me", Google will only show profiles of businesses with a star rating of 4.0 or higher in their Google My Business.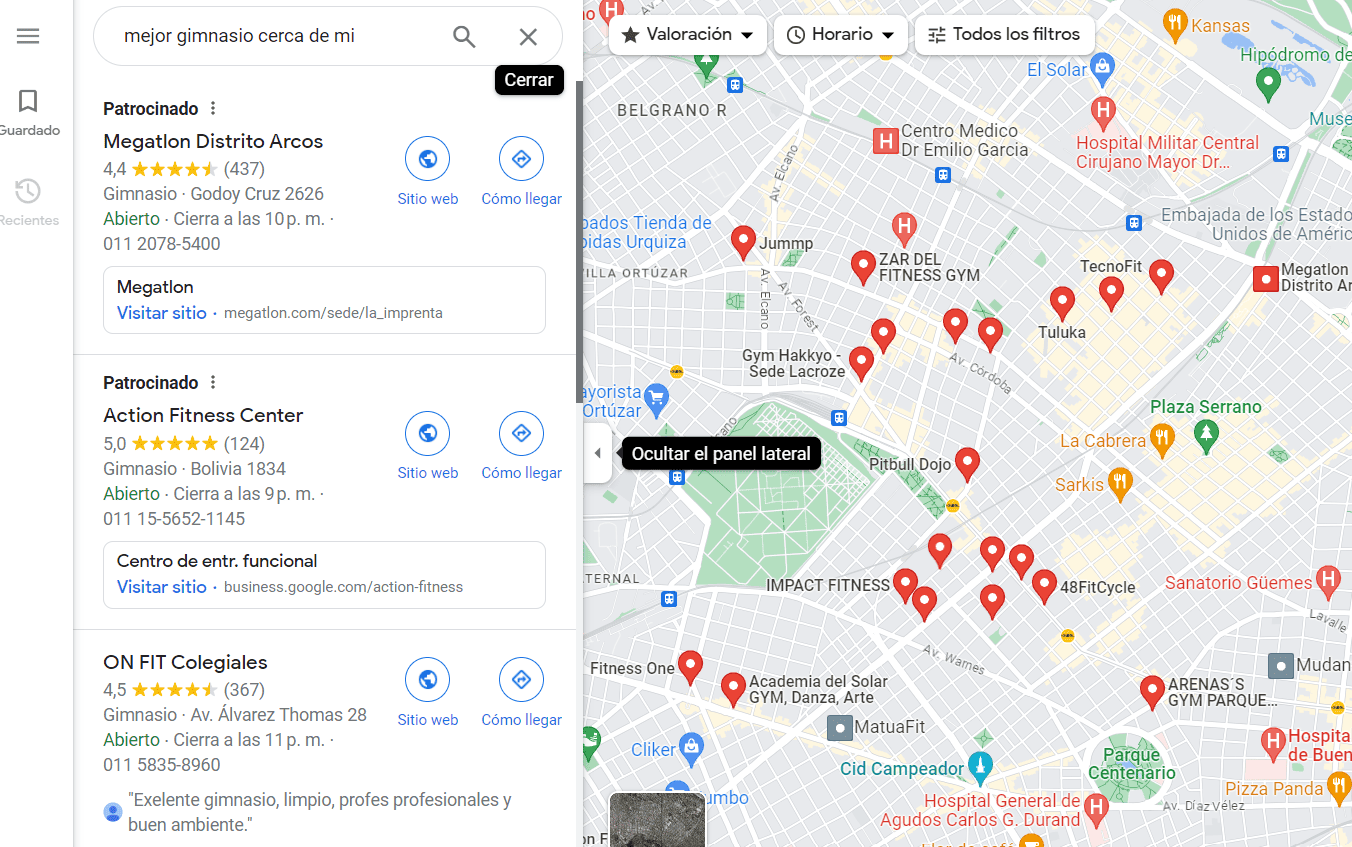 1.3. Reviews can help convince and convert more customers.
A well-optimized Google Business Profile listing, accompanied by customer reviews, has the potential to attract potential customers to your small business website. This will bring them closer to the buying process and, if your website is compelling enough, they are likely to convert into customers. (This is just one of the reasons why SEO can be employed to generate leads).
For physical businesses, having a significant number of reviews on Google can increase customer visits to your location and improve conversions. Reviews establish an automatic lead generation system for your business, where trust is generated through customer reviews and your website acts as a persuasive medium.
2. Frequently asked questions about Google reviews
Still have questions about how to get Google reviews for your business? We answer them below:
2.1. Where do Google reviews appear for my business?
Google reviews appear on the search engine results page when you search for a particular company.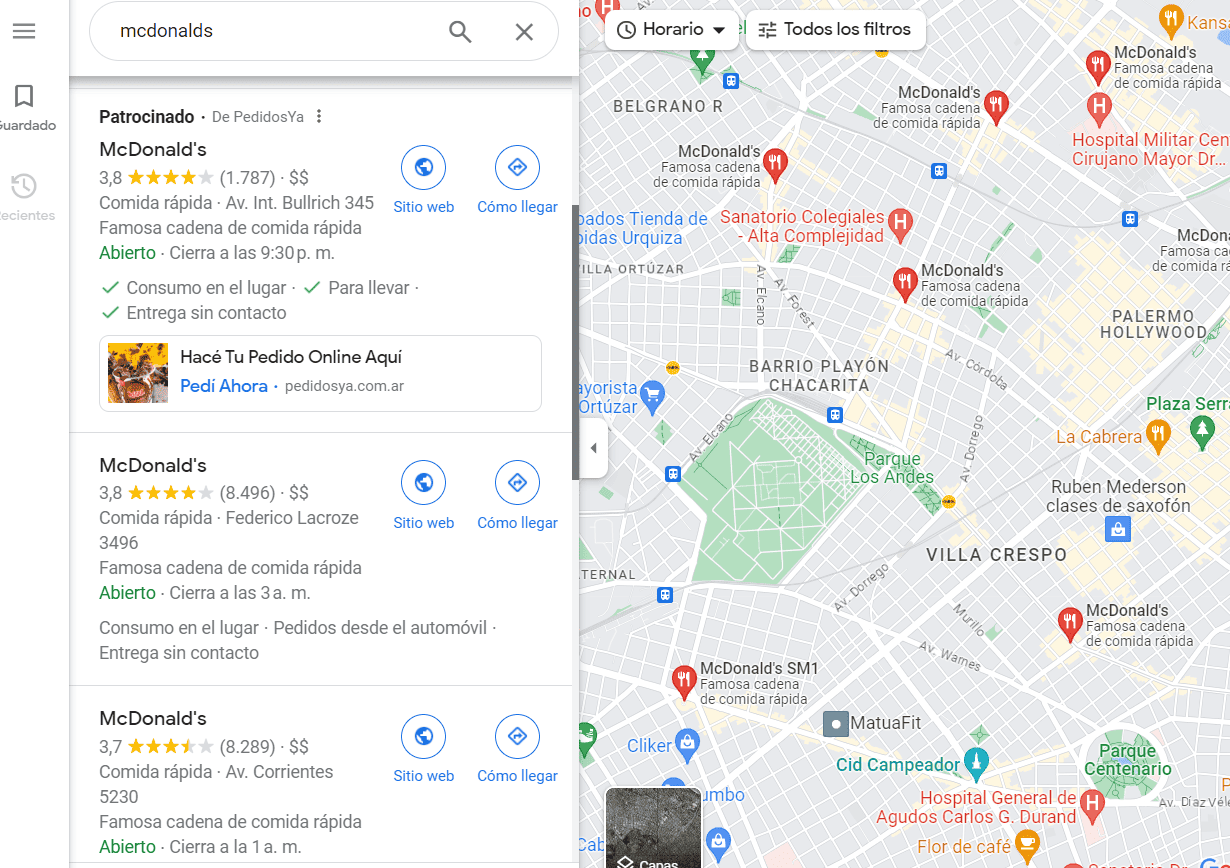 Read more about: The most profitable franchises to acquire in 2023
2.2. Can you buy reviews from Google?
No, Google reviews are given by customers and your brand can't manipulate them. In fact, investing money in Google reviews violates Google's guidelines, which is why customers around the world rely on Google for authentic reviews about a company!
2.3. Can you request 5 star Google reviews?
While it is not allowed to pay individuals to write reviews about your business or offer incentives in exchange for reviews, it is suggested and encouraged to ask loyal customers to share their experiences on Google to help grow your business' online visibility. However, it is important to note that Google prohibits the solicitation of reviews in bulk or the solicitation of specific opinions. You can get more guidance on how to request reviews here: How to get more reviews on Google
2.4. Do people trust 5 star reviews?
Of course they do! In fact, 72% of people say that favorable reviews inspire more confidence in a local company. Also, 92% of people will choose to do business with a local company if it has at least a 4-star rating.
However, a combination of positive and negative reviews is optimal. This is because unfavorable reviews can also have benefits for businesses, as 82% of people specifically look for negative reviews to help them adjust their expectations appropriately. Often, how you respond to reviews is more relevant than the type of Google reviews you receive.
2.5. Can you receive fake reviews from Google?
On certain occasions, it is necessary to consider removing a review from Google if you suspect that it violates Google's terms of service. Unfortunately, from time to time, fake reviews may appear on Google. Although Google will automatically remove any reviews that are inappropriate, vulgar or offensive, it is essential that you regularly review your reviews on Google. This way, you can flag any fake reviews for removal through your Google business profile.
If a review comes from a customer who is unfamiliar or has not demonstrated a frequent history of reviewing other businesses in the past, this could indicate that the review on Google may be false.
Read more about it at: How to delete a Google review

2.6. Can you remove Google reviews?
If a review violates Google's policies, you can report it for removal. We recommend you check out our complete guide on how to remove reviews from Google, which outlines simple steps to address any fraudulent behavior in your Google Business Profile: Step-by-step guide to remove Google reviews
3. Summary for receiving 5 star reviews on Google
Google reviews represent the most effective and free form of promotion you can get online. Customers take other customers' experiences into account, and when your business provides quality service, those customers become advocates for your brand.
Whether you have an online store, a franchise or any other type of business, reviews have a significant impact on your potential customers and can persuade them to do business with you.
Therefore, it is important to create a review generation strategy for your business in order to get more reviews from your customers and stand out from your competitors.
In summary, here are seven simple steps to get more reviews on Google:
Request reviews on Google.
Create a link for reviews that you can share.
Offers exceptional customer service.
Responds to existing reviews.
Share positive feedback.
Invest in review generation tools.
Keep your Google business profile updated on a regular basis.
We hope this article has helped you clear up some doubts about how to get 5 star reviews.
Remember, after you understand what it means to review you can improve your online presence and stand out on Google and Google Maps, having a review and customer experience management strategy in place can make all the difference. You can count on RAY, a comprehensive solution that can help you improve your Google reviews, rank high in search results and provide an exceptional customer experience.
4. Keep learning with these articles
Hopefully, by now you are getting 5 star reviews, you can continue reading more articles that will help your brand or business on our Blog.