In order to increase their visibility on Google and get more customers, many businesses choose to create a Google My Business profile, also known as a Business Profile. However, some business owners may not realize that creating a business profile does not automatically grant them management and editing capabilities. To get the most out of your business profile as an effective Local SEO and lead generation tool, you need to get management of that profile.
So, how do I get the management of a commercial profile on Google? The creation of the commercial account must be done separately from the personal one. This business account will give you the necessary management and editing capabilities to make your business profile work optimally.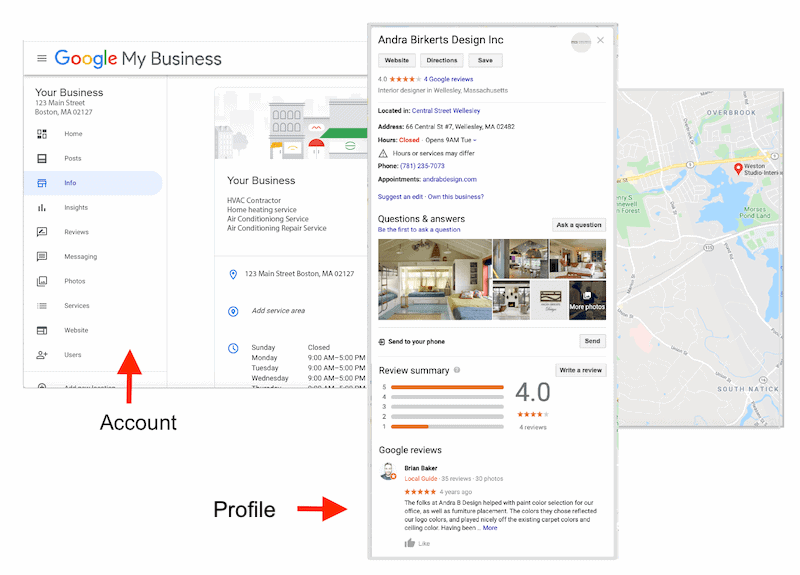 To be in control of your business profile, a separate Google My Business account is required.
The account is the only way to claim ownership of your business profile, obtain management rights and unlock additional free features that will help increase your visibility on Google.
1. What is Google MyBusiness?
As mentioned above, it is a tool that gives you the ability to manage and optimize your Google business profile, which is one of the many featured listings in the business directory. Before we get into the details of what it is and how it works, it is important to understand what is meant by a business profile.
The business profile refers to the listing of your business on Google. These business profiles appear in both Google Maps and Google Search local results.
Business profiles in Google search results are displayed as follows: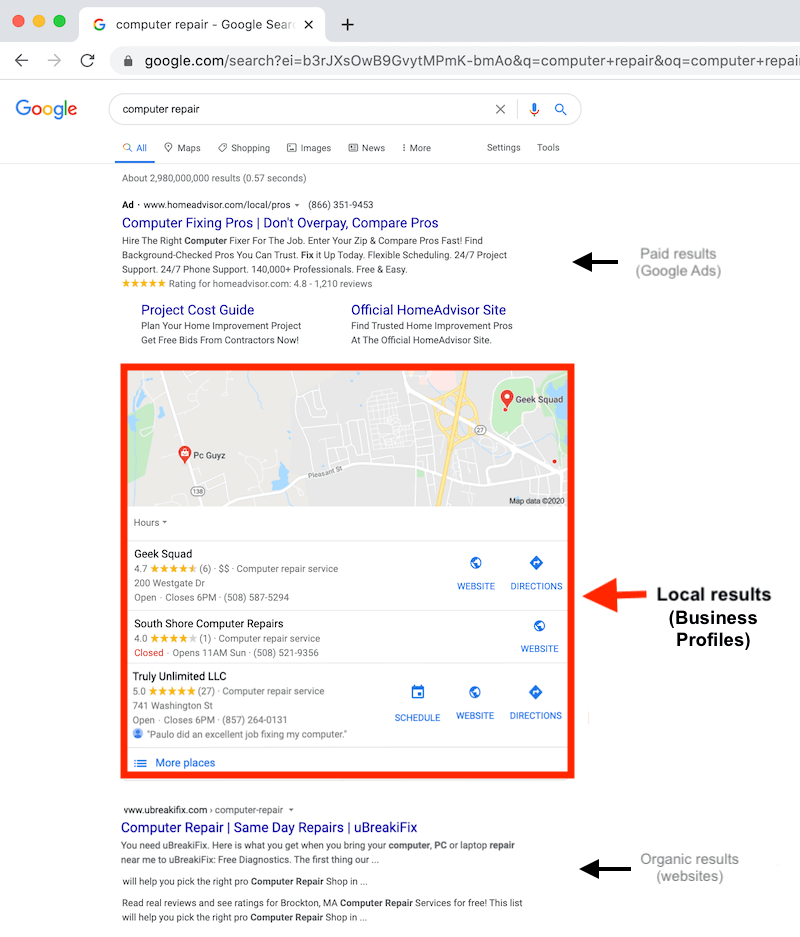 The commercial profiles in Google Maps look like this: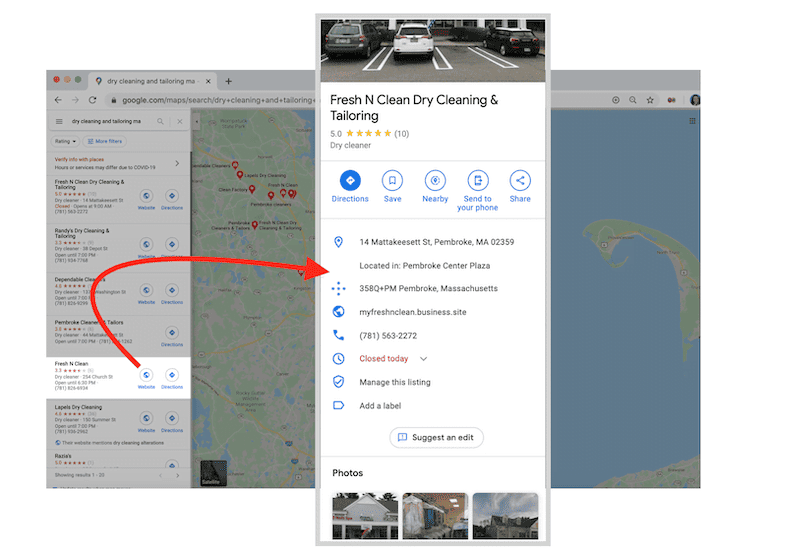 And business profiles on mobile devices look like this: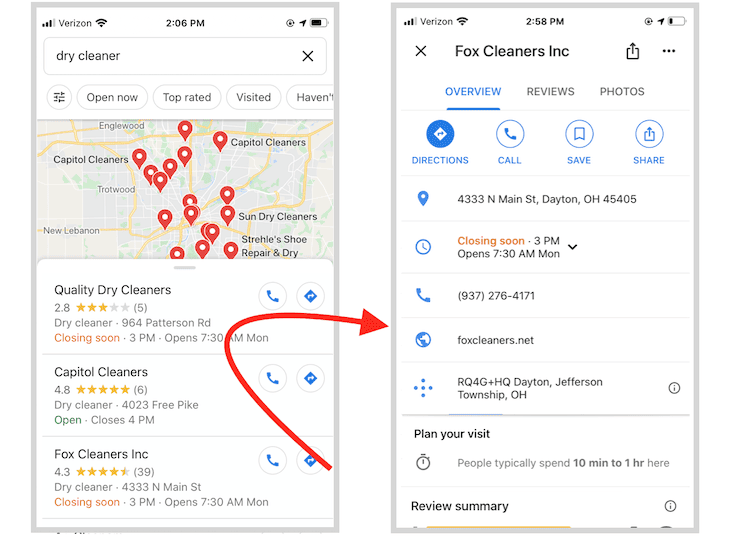 Creating a business profile involves adding a place to Google Maps, something that anyone, including strangers or automated listing generators, can do. Google only requires the business name, location and category to create the business profile, as long as it is not a Google-confirmed duplicate. Once created, the business profile is available for consumers to leave comments, add photos, ask questions and even answer questions. In addition, Google may collect additional information from various sources on the web to complete the business profile.
This means that a business profile can exist independently, without the need for a Google My Business account. However, without a Google My Business account, you do not have the ability to manage the information displayed in the profile or the reviews collected.
This is where Google My Business comes in. By creating a Google My Business account, you get access, customization, management and enhancement of your business profile on Google, all for free. Below, we'll explore more details on how to take advantage of this opportunity.
2. Google MyBusiness can help you get more customers
2.1. Engaging with customers
There are numerous ways consumers can interact with your business profile, and you use your account to reengage with them. You can respond to reviews, answer questions, activate direct messaging and set up related alerts. You even have the ability to post updates to your business profile, similar to how you would on Facebook or other social media platforms.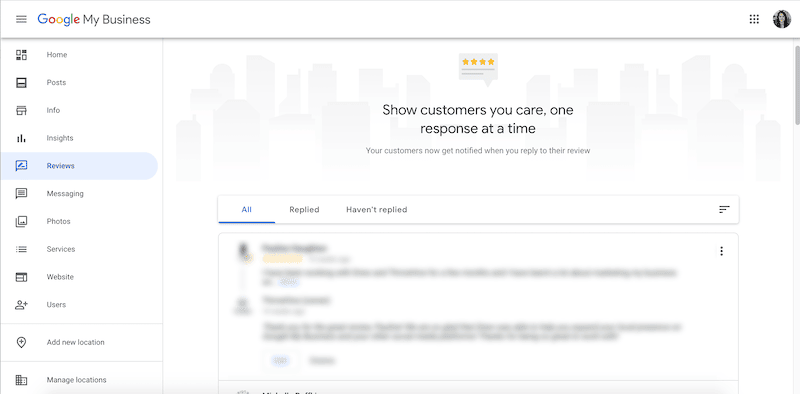 The Google My Business dashboard is where you have the ability to respond to reviews, create posts and answer questions on your business profile.
2.2. Highlight your business and get more customers
While a business profile alone provides basic information about your business, through your account dashboard, you can provide more comprehensive information such as hours, links to your website, products and pricing, attributes and other details that highlight the uniqueness of your business. In addition, you will use your account to make edits and updates as needed.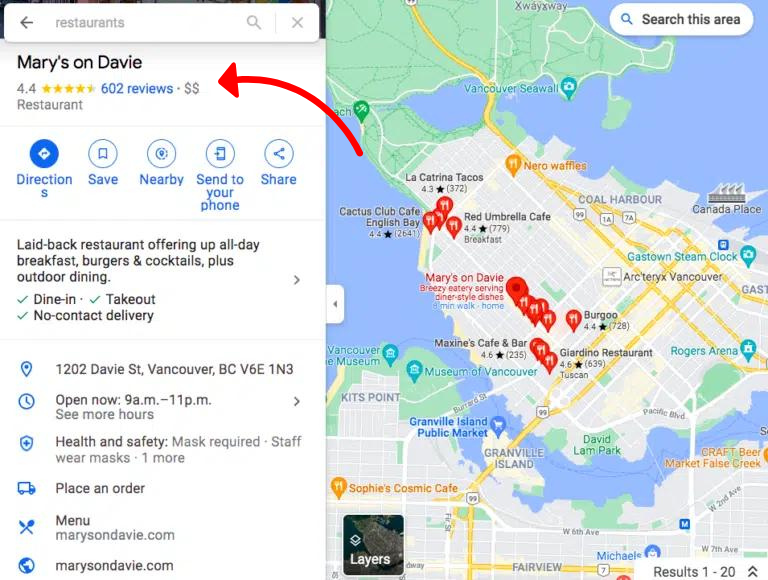 A comprehensive business profile provides a complete description of your business, including its best features, directly in the search results.
2.3. Analyze your business performance
You can use the Google My Business dashboard to get important information about your audience and local search performance. In the analytics section of the platform, you can access data such as the queries used by customers to find your business profile, either through Google Maps or Google Search. You can also get a breakdown of the actions taken on your listing and evaluate the performance of your photos compared to other profiles in your category. In addition, there are methods to track clicks from your business profile using UTM parameters and Google Analytics.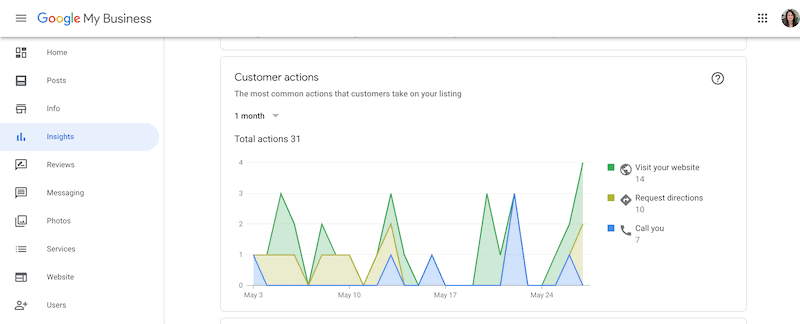 2.4. Optimize Local SEO
Just as Google uses algorithms to rank ads and websites, it also uses one to rank business profiles. Using the Google My Business dashboard, you have the ability to optimize your business profile with keywords and other strategies to improve your ranking in local results.
3. Using Google MyBusiness for Local SEO
Google Business Profiles are flexible and adapt based on platform and search relevance. Google will prioritize the sections of your profile based on the searched term and the most relevant information for consumers in your category. In addition, Google will boost relevant keywords in your profile content.
However, you need to have information and keywords in order to prioritize and strengthen your profile. Just as you would use a content management system like WordPress to optimize your website for search engines, this is used to optimize your profile and expand your reach. So how do you use it for local SEO? Ultimately, it boils down to three key aspects: relevance, quality of information and trust, which are the same fundamental principles for optimizing for any search engine.
4. Keep learning with these articles
Hopefully, by now you have a solid understanding of what Google My Business is and you can continue reading more articles that will help your business.