Google is the most popular web portal globally, it is widely frequented by users all over the world. With a market share of over 92% in the search engine space, it is essential for companies to create a business profile on Google, formerly known as Google My Business. This profile offers a valuable opportunity to attract new customers through Google searches and Maps. In this article we'll show you how to use Google MyBusiness to get more customers.
1. What is the Google My Business profile
The Google Business Profile, called Google Business, is a free listing of businesses provided by Google. Through this profile, you can provide detailed information and photos of your business, including its location, services and products.
Creating this profile for free is a great way to increase the visibility of your business on Google services. Your Google business profile information can appear in Google Search, Google Maps and Google Shopping.
It is important to note that Google Business is only available to businesses that have direct interaction with customers. This includes both businesses with a physical location, such as restaurants or stores, as well as businesses that offer services and meet with customers in other locations, such as consultants or plumbers.
If your business is exclusively online, you will need to use other Google tools, such as Google Ads and Google Analytics.
2. Why have a Google My Business account
2.1. Appear in Google searches
If you are looking to increase both foot traffic and web traffic, Google is the undisputed leader in search. Having a Google business profile helps ensure that people find your business when searching for similar products and services in your local area.
Your Google My Business profile in Spanish provides key information to searchers about location and how to visit your business. In addition, a Google business profile improves your local SEO. ranking. Specifically, when people search for nearby businesses through Google Maps, your business listing is more likely to show up if you have a Google business profile.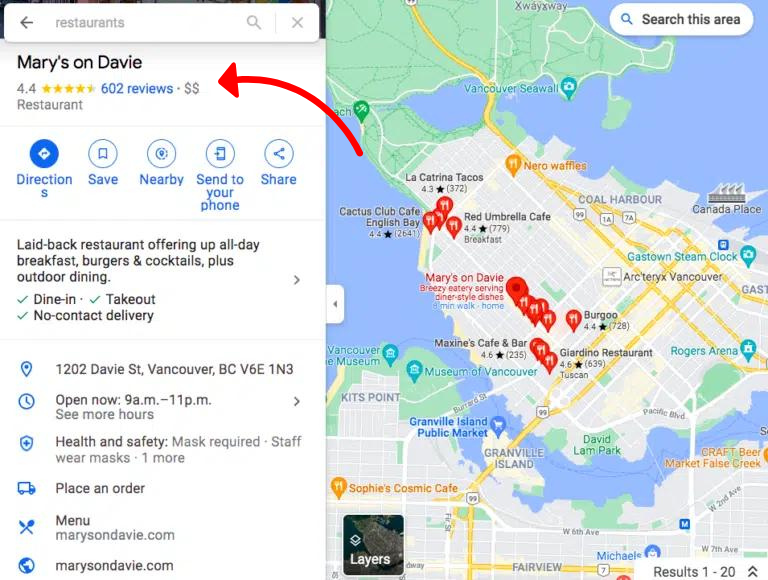 2.2. Take control of your company's information on the Internet
Through your Google My Business profile, you have the ability to take full control and update relevant information about your business, such as contact details, hours of operation and other essential details, as needed.
In addition, you can take advantage of the publishing feature to share important updates, such as service expansions, temporary closures or complete reopenings. This feature is especially useful during emergency situations such as the COVID-19 pandemic.
Google Business Profiles has strong local SEO, which means that the information you share will rank above third-party sites that may have outdated data. This ensures that the latest and most accurate information about your business stands out to users.
2.3. Build trust through reviews
Customer reviews are a crucial element of social proof and play a significant role in building trust and credibility.
Star ratings and detailed review space on Google allow customers to share their experience with your business, giving them the freedom to provide as much or as little information as they wish. All of this helps prospective customers make decisions about which businesses to visit and which products to buy.
It can be intimidating to think about reviews being posted on such a public platform, especially since you can't choose which Google My Business reviews to share (although it is possible to respond to all reviews, as we'll explain below).
However, there is no cause for alarm, as Google considers a combination of positive and negative reviews to be more reliable than a succession of enthusiastic recommendations.
3. How to set up a Google My Business profile in English
3.1. Login
If you are already signed in to a Google Account, you will be automatically signed in to the Google Business Profile Manager. Otherwise, you will need to enter the login details of your existing Google account or create a new Google account.
3.2. Add your business
Enter your company name. If it is not shown in the drop-down menu, select "Add your business to Google". Then choose the appropriate category for your business and click "Next".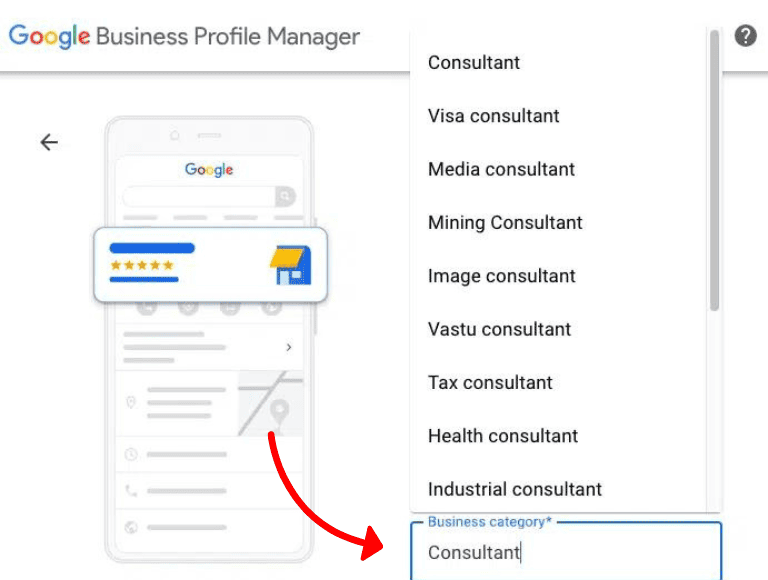 3.3. Enter your location
If your business has a physical location that customers can visit, choose the "Yes" option. Then add your business address. You may also be asked to place a marker on the map to indicate the exact location. In case your business does not have a physical location but offers in-person services or deliveries, you can list the service areas. Then click "Next".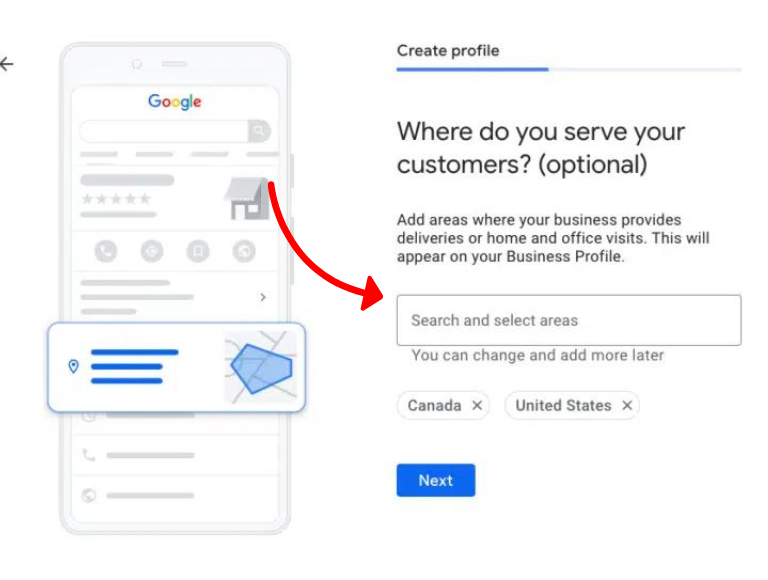 If you have not provided a physical address, Google will prompt you to indicate in which region you are located. Select the appropriate option from the drop-down menu and click "Next".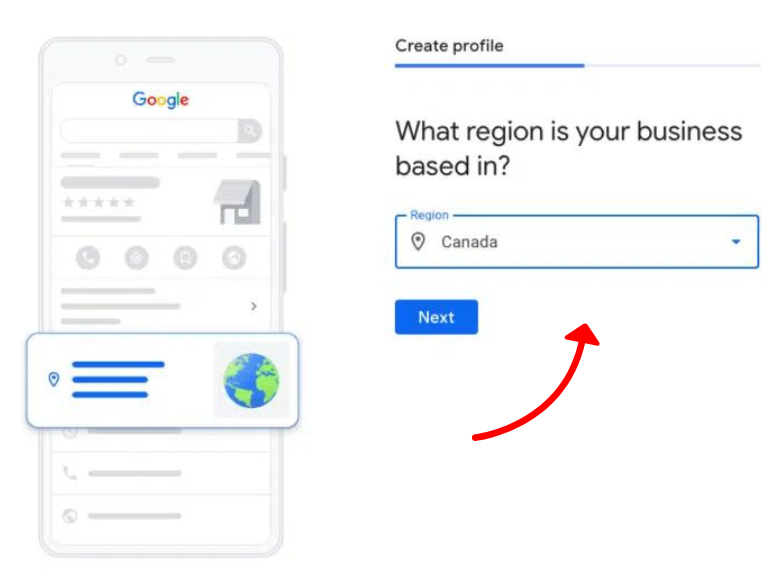 3.4. Complete all contact information
Provide your business phone number and website address so that customers can contact you. If you do not wish to be contacted by phone, you do not need to enter a phone number.
Once you have completed all the required information, click "Next".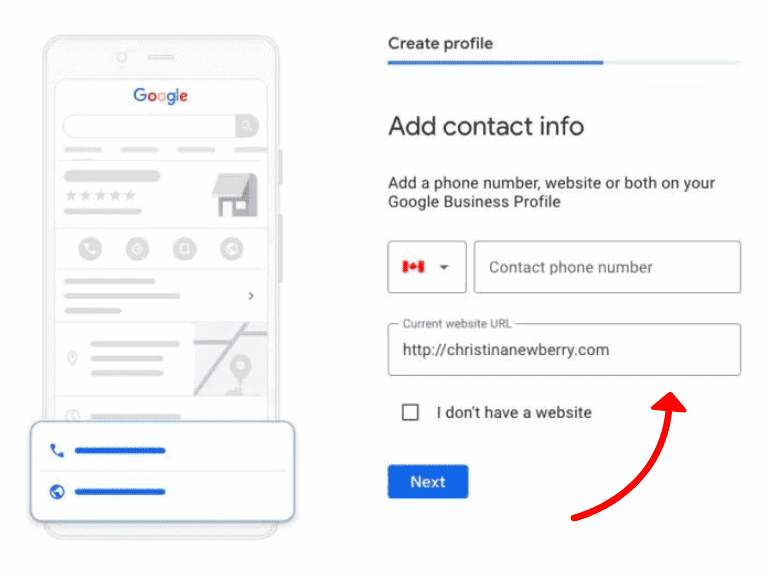 3.5. Verify your business
Enter the actual physical address of your business, avoiding using a P.O. Box. This information is used only to verify your business and is not displayed on your Google business profile or shared with the public.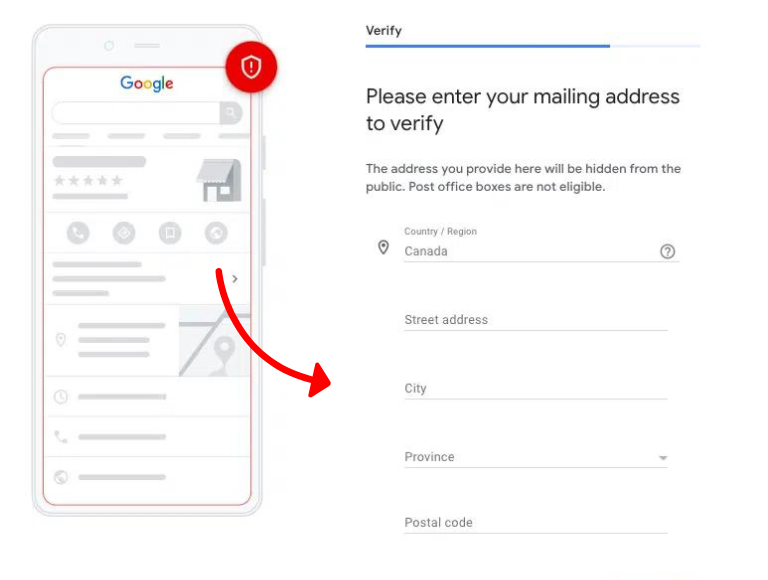 Provide your address and click "Next". You will be presented with options to verify your account. Businesses with physical locations should receive a postcard in the mail to verify their location. On the other hand, service businesses in specific areas can be verified through an email address.
Once you have received your five-digit verification code, enter it on the following screen (or visit https://business.google.com/) and click "Verify" or "Verify Company".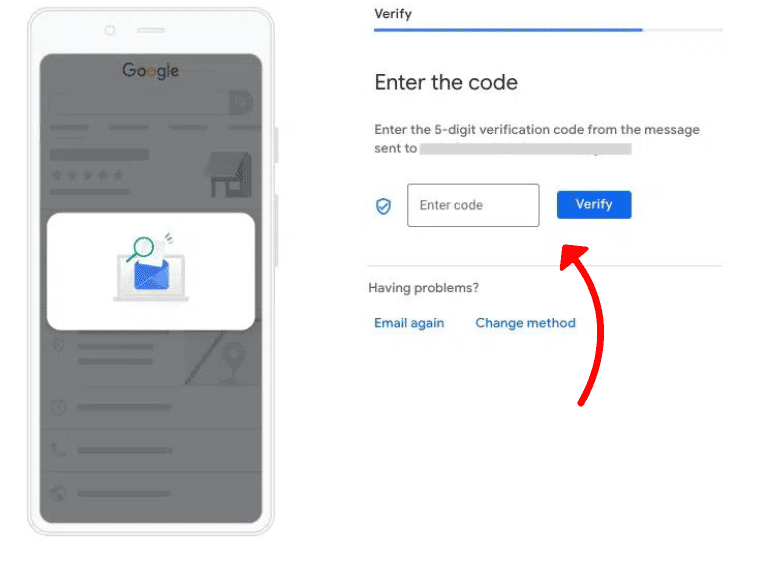 You will see a confirmation screen indicating that your verification is complete. On that screen, click "Next".
3.6. Customize your profile
Enter your business hours, messaging preferences, business description and upload photos (In the next section, we will go into more detail on how to optimize your profile content).
When you have completed these steps, click "Continue". You will be redirected to the Google Business Profile admin panel.
In the admin panel, you will be able to manage your business profile, view relevant information, manage reviews and messages, as well as create Google Ads.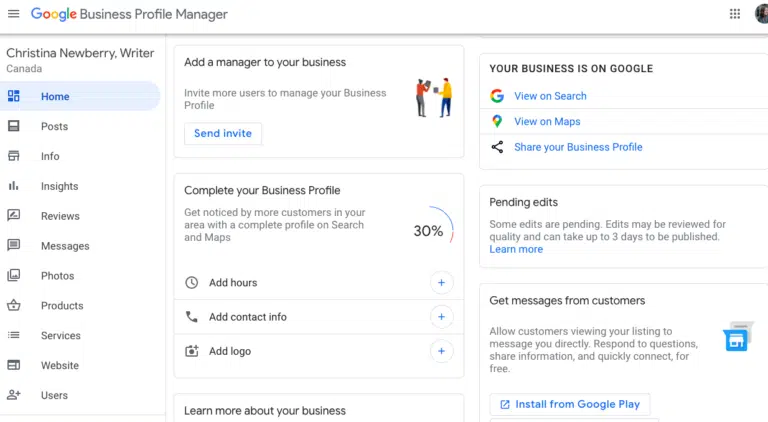 4. How to optimize Google My Business profiles
Google uses three key factors to determine local search ranking:
Relevance: Evaluates how well your Google My Business listing matches a specific search.
Distance: This considers the proximity of your location in relation to the search or searcher's location.
Prominence: Your business' notoriety is evaluated, which is based on factors such as links, number of reviews, review score and search engine optimization (SEO).
Here are some steps you can take to maximize your score on these three factors.
4.1. Complete your profile
Google emphasizes that businesses with complete and accurate information are more easily found in relevant searches, which improves their relevance score. It is crucial to provide Google visitors with clear information about what your business offers, where it is located and when they can visit.
If your business hours vary on holidays or specific seasons, be sure to keep this updated on your Google My Business profile. Keeping this information up to date is important to ensure that customers are informed about changes to your hours and can plan their visits accordingly.
4.2. Verify your locations
Businesses that have verified their location are more likely to appear in local search results across all Google products, such as Maps and Search. Having a verified location also contributes to an improved score in the distance ranking factor.
If you skipped the verification of your location during the previous steps to create your account, it is advisable to request now your verification postcard at https://business.google.com/.
4.3 Add images and videos of your business
In your Google business profile, it is important to include a logo and a cover photo. Use images consistent with the ones you have on your social media profiles so that people can easily recognize your brand.
However, don't stop there. Add images and videos that show your location, work environment and equipment.
If you have a restaurant, post photos of your dishes, menus and dining area. Make sure the images are attractive, professional and have a good resolution. According to Google, businesses that include photos in their profile receive more requests for directions and get more clicks to their websites.
4.4. Always update your business data
It is critical that you update your business profile if you change your hours of operation, contact information or other details. Nothing frustrates customers more than arriving during business hours and finding that the business is closed. If you have special hours for holidays or special occasions, be sure to reflect that in your Google My Business profile.
In addition, you can take advantage of Google My Business posts to share updates, product news, offers and events with your customers. This feature allows you to keep your customers informed and draw their attention to your business.
We hope this article has helped you understand how to use Google My Business for your business or personal brand, and how it will help you get more sales.
Remember, to improve your online presence and stand out on Google and Google Maps, having a review and customer experience management strategy can make all the difference. You can count on RAY, a comprehensive solution that can help you improve your Google reviews, rank high in search results and provide an exceptional customer experience.
5. Keep learning with these articles
Hopefully, by now you have a solid understanding of how to use Google My Business by following the steps described above. You can continue reading more articles that will help your brand or business in our Blog. Create a Google My Business account and help expand your business.