Google MyBusiness is a tool provided by Google that allows business owners to connect with customers through Google Search and Google Maps.
Having a business profile on Google is critical to increasing the visibility of your business online and establishing credibility through customer reviews. It also gives you control over what information about your business is displayed in search results.
In this article, we will cover several aspects of Google Business Profile, including the importance of having a business profile, how to set it up correctly, strategies for optimizing your Google My Business profile, and answer some frequently asked questions.
1. What is Google MyBusiness?
Google MyBusiness is a free-to-use tool that gives you the ability to control and customize the appearance of your business on Google Search, Google Maps and Google Shopping.
By using this tool, you have the opportunity to establish connections with your customers, share relevant updates about your business, provide a detailed list of your products or services, and much more.
This is what GMB looks like: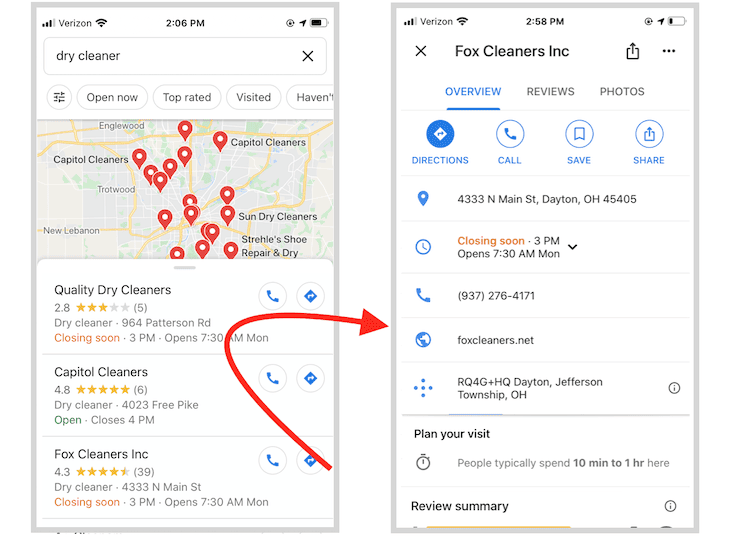 Even if you do not operate a physical store, you still have the option to create a GMB account as long as you have interactions with customers.
For example, if you work as a plumber and only make house calls to serve customers, you can still take advantage of having a business profile on Google.
2. Is the Google business profile free of charge?
Creating and managing your Google business profile is completely free, which means you can take full advantage of this tool without spending a single penny.
3. The benefits of Google MyBusiness
There are three main advantages to maintaining a business profile on Google:
Improve visibility on Google: By having a business profile on Google, you increase the likelihood that your business will be found by potential customers on Google Search, Google Maps and other Google platforms. This gives you greater online visibility and the opportunity to reach a wider audience.
Gain credibility with reviews: Google's business profile allows customers to leave reviews and ratings about your business. These reviews are visible to other users and can influence their decision to choose your business. Getting positive reviews and responding appropriately and professionally to reviews can improve the credibility of your business and build trust among customers.
Share business information with customers: Using your Google business profile, you can provide detailed information about your business, such as hours of operation, location, phone number, website and services offered. This makes it easier for customers to find and contact your business, which increases the chances of generating sales or conversions.
4. Business reviews are important
Nearly all users (98%) check online reviews of local businesses before making a decision. The star rating displayed next to business names on Google Maps, ranging from 1 to 5, is the result of compiling these reviews.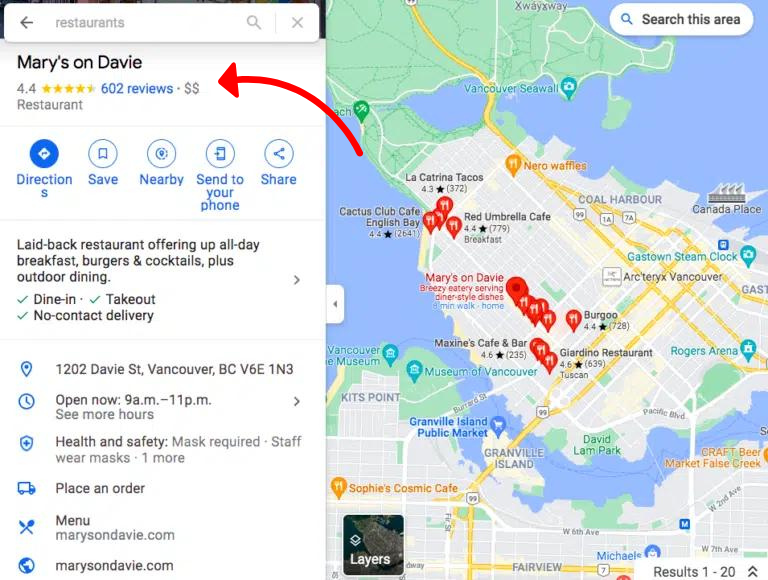 Customer reviews provide valuable feedback about your business. You have the option to respond to these reviews, which can help build trust with your customers.
Not all reviews need to be perfect, in fact, according to Google, a combination of positive and negative reviews is more trustworthy.
Responding to all reviews, both positive and negative, is a great way to establish trust and credibility with your current and future customers.
5. Frequently asked questions about Google Business Profiles
5.1. Do I need a physical address?
It is not mandatory to have a physical location to manage a business profile on Google. In addition to physical stores, businesses that provide home-based services may also be eligible.
For example, many plumbers do not have a conventional store or office, but still have the ability to manage a Google My Business page.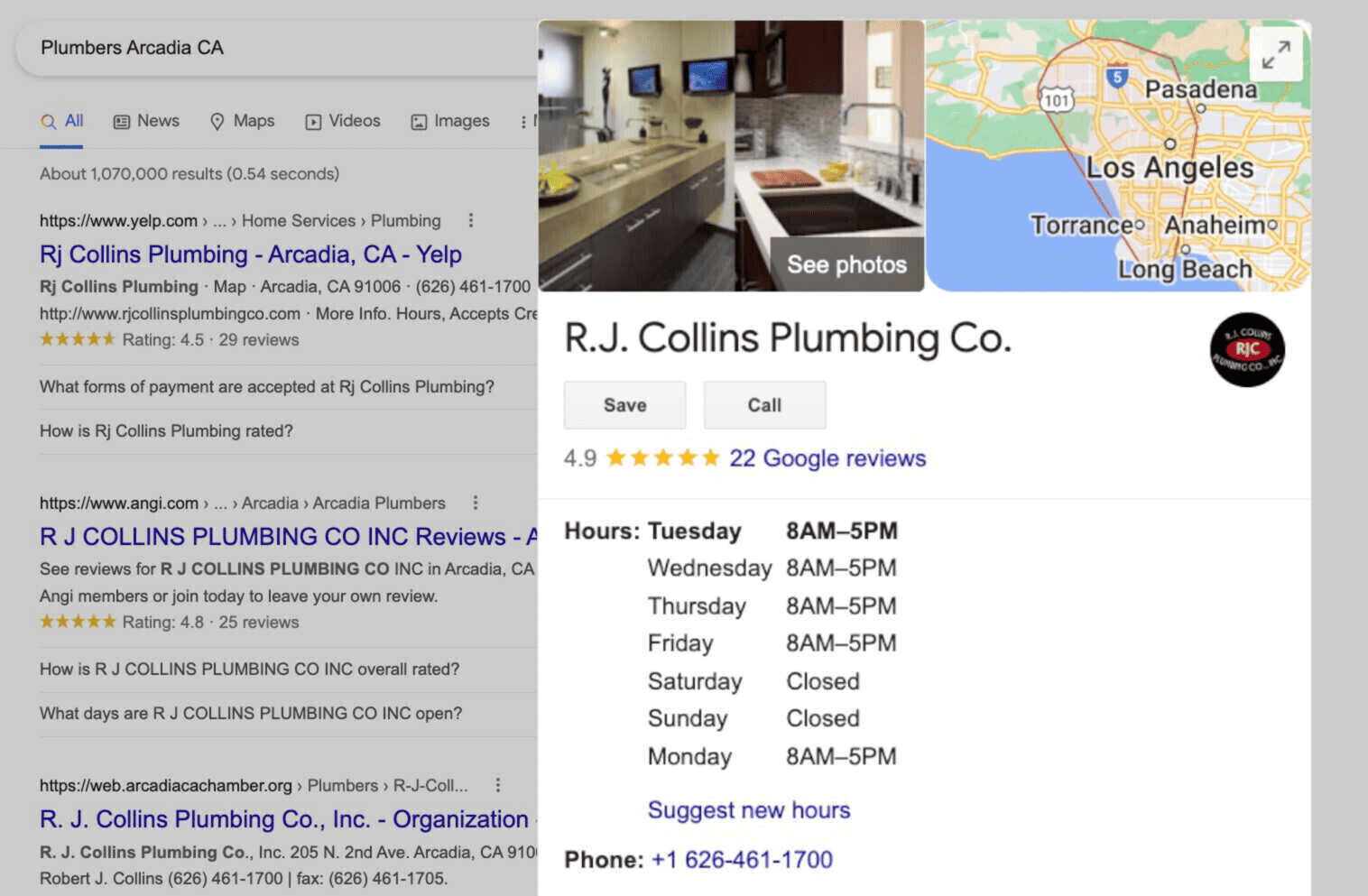 When setting up your account, you will need to provide an address, but it is not mandatory to display it publicly.
In short, if your business involves face-to-face interactions with customers, you qualify for a business profile.
Examples of businesses that are not eligible include those that operate exclusively online, properties for rent or sale, and businesses whose primary purpose is lead generation.
5.2. Can I hide my business address?
If you work from home and provide services to customers you visit, you probably do not want to disclose your address. However, it is important to note that restaurants are required to display their address.
If you want to keep your address private on your Google MyBusiness profile, you can follow these steps: Sign in to your account and go to the "Information" tab.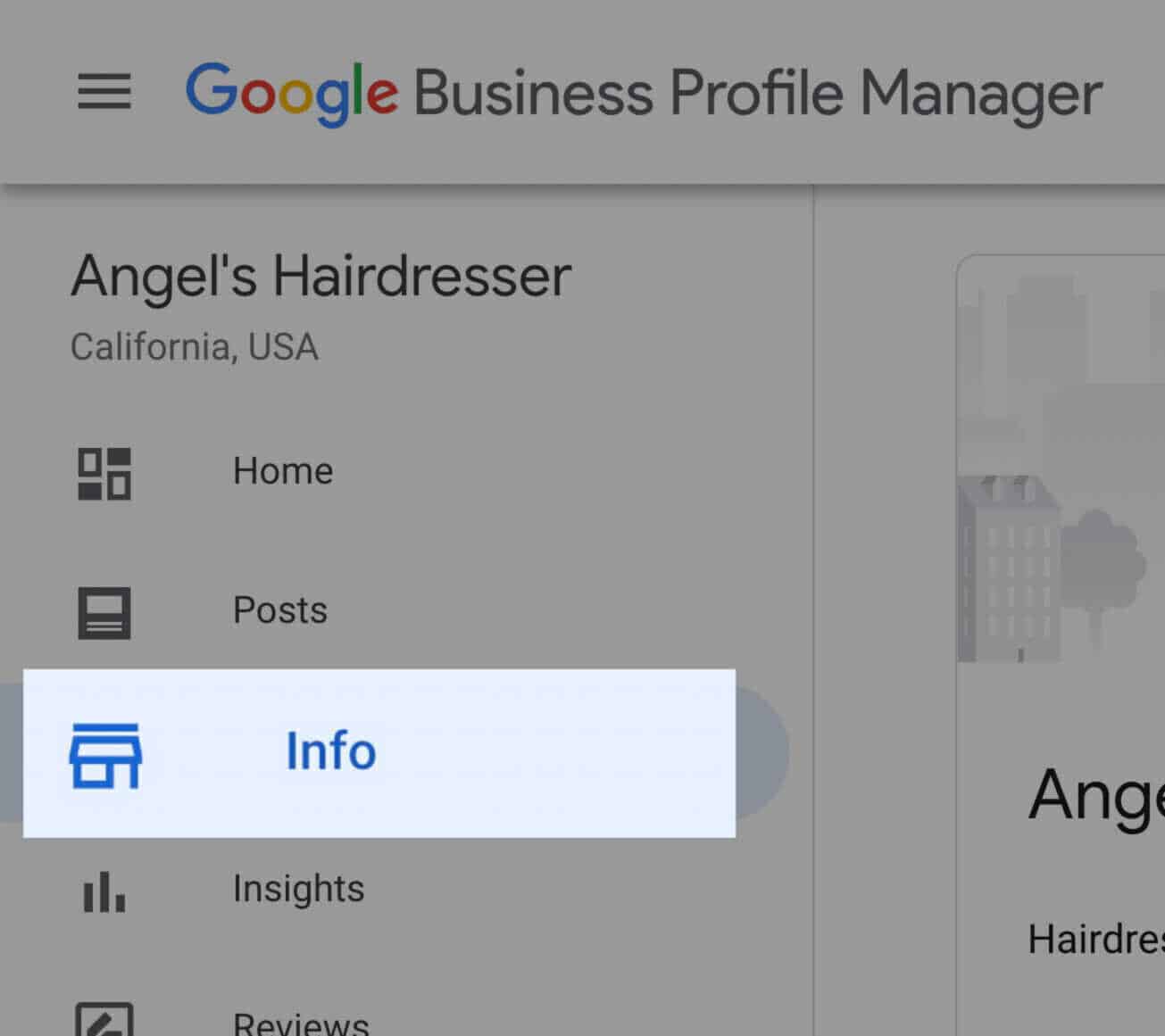 Find your address and click on the pencil icon next to it.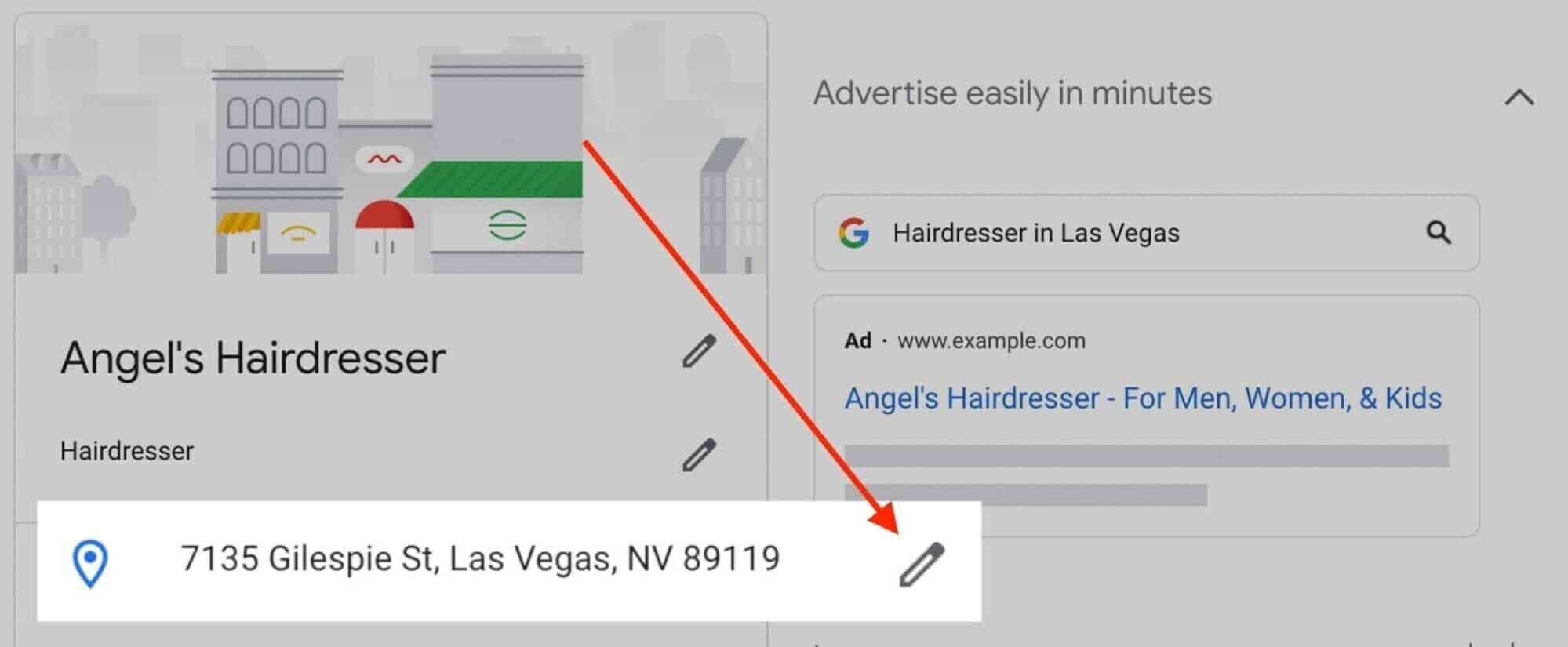 A pop-up window will open with a "delete address" button near the bottom. Go ahead and click it.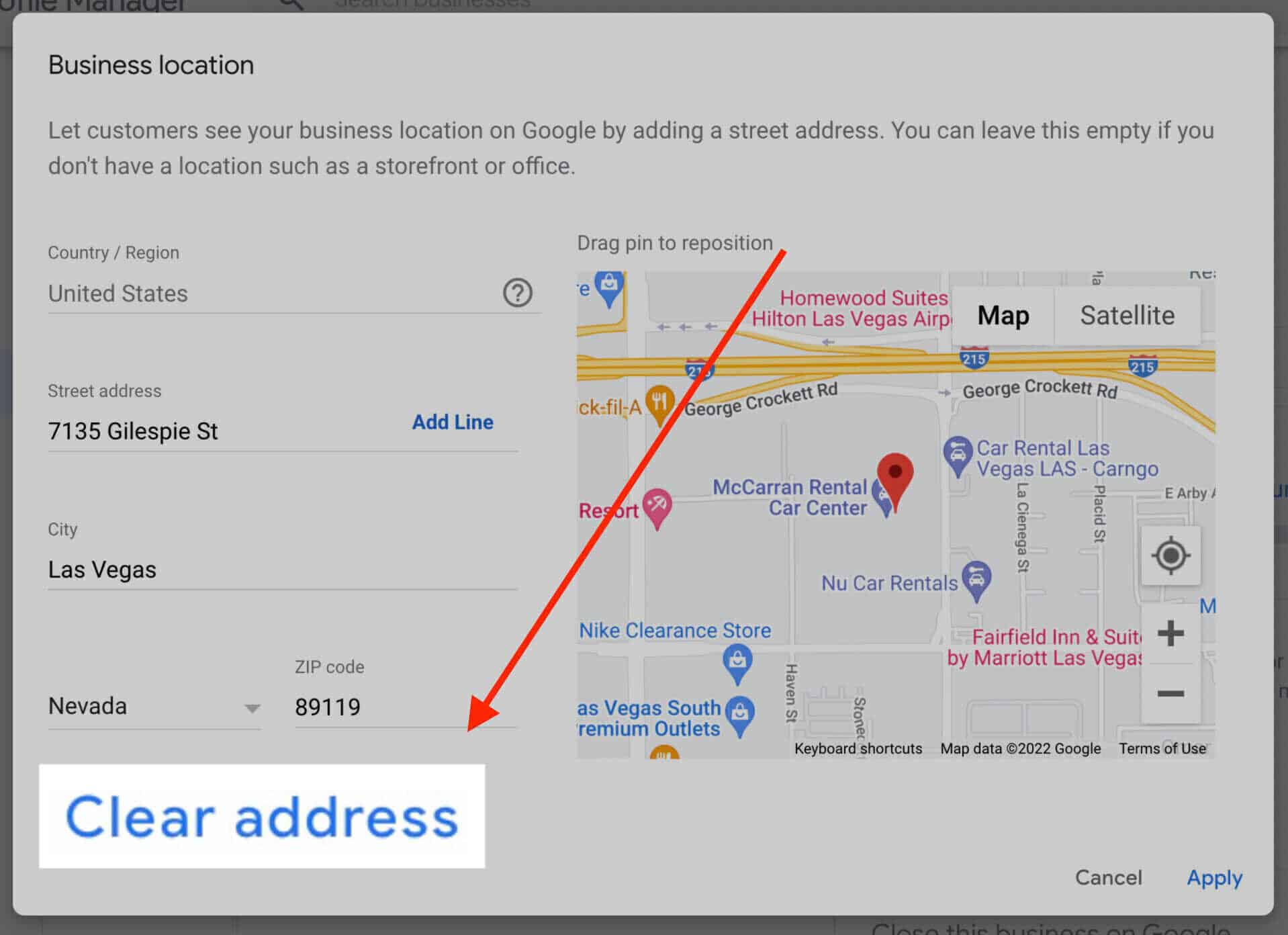 As soon as you press "delete address", you will see a message that your address will no longer be displayed, but customers within range will still be able to find you.
Click the "Save" button in the lower right corner of the pop-up window to save the changes you have made.
Once you have removed your address, Google will use the service area you have set up to determine the relevance of your profile to users. Be sure to verify that your service areas are accurate so that potential customers can easily find them.
To access your service area settings, go back to the "Information" tab. There you will find the "Service Areas" section just below your address.
Click on the edit icon (represented by a pencil) to open a pop-up window where you can add or remove existing service areas as needed.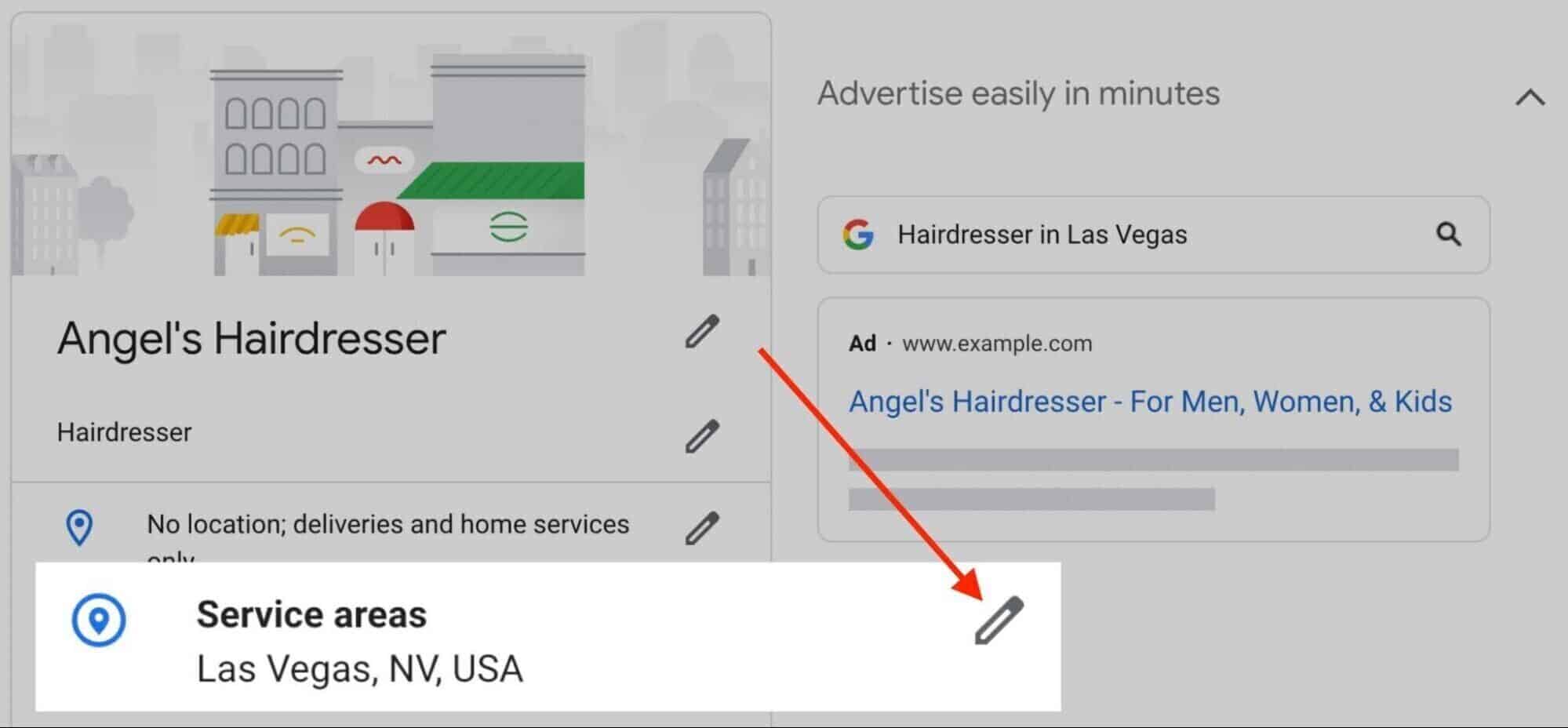 In the pop-up window, you have the option to include service areas by providing the streets, cities and states where you offer your services. You can also remove existing service areas by simply clicking on the "x" next to the locations you wish to remove.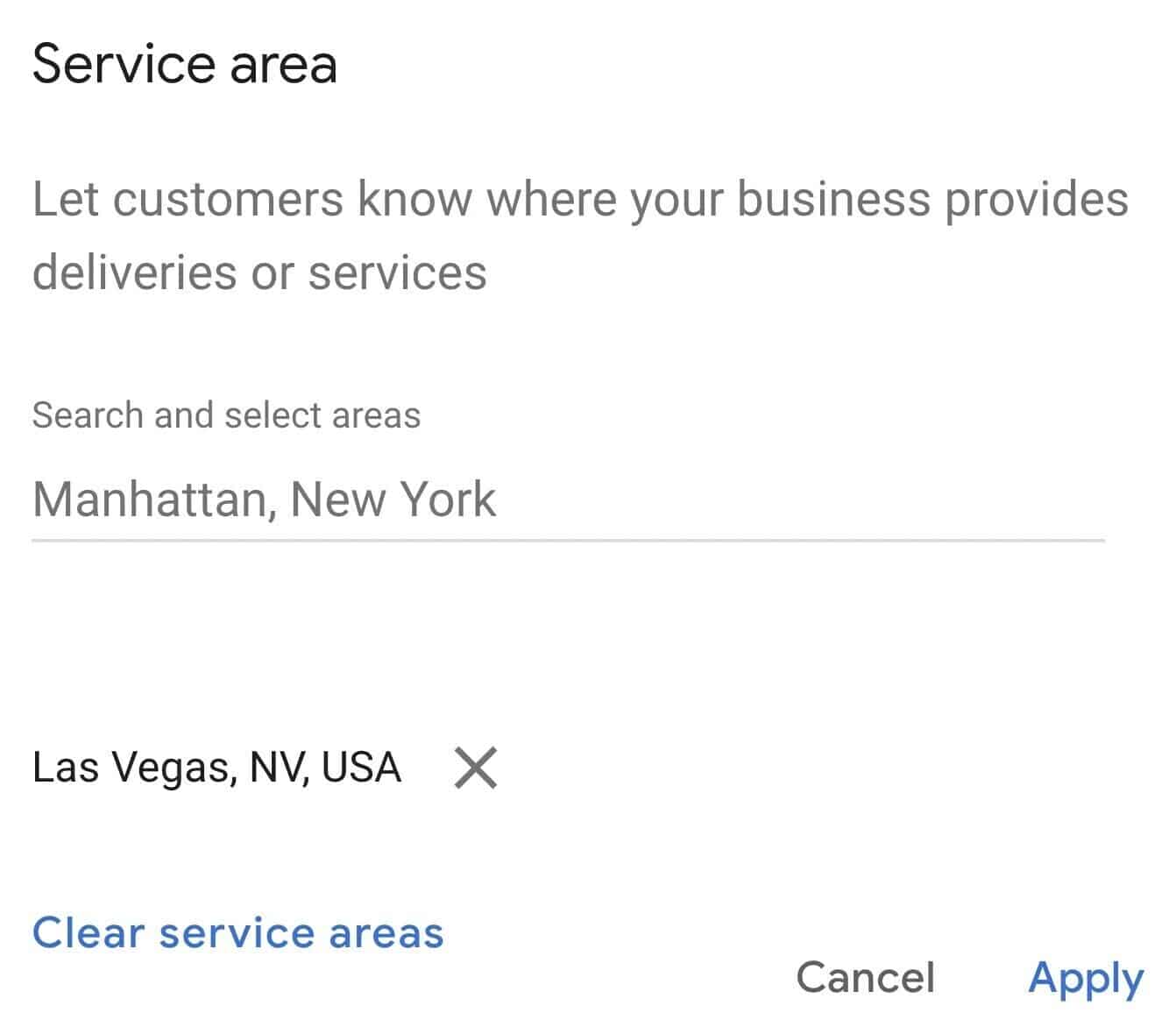 5.3. How to include more than one location?
If you have multiple businesses that qualify for Google Business Profiles, you can add multiple locations from a single account. These locations can be grouped into what are called "Business Groups," allowing you to share management capabilities with multiple users, such as agencies working on multiple accounts.
Here's how to grant an agency, colleague or administrator access to a group of locations:
Create a corporate group.
Transfer any applicable company to the business group.
Add members to the new corporate group.
You can add individual locations one by one or import a list if you need to add many locations at once.
5.4. How to change the profile address?
To update your listing address in your Google business profile, follow these steps after logging into your account:
Log in to your Google business profile.
Find the "Info" tab in the main menu.
Click on the option to edit the address or location.
Provide the new address or make the necessary changes.
Save the changes by selecting the appropriate option.
Remember to check and verify the details before saving the updated information to make sure they are correct.
Tags in your Google Business account give you the ability to organize and categorize multiple listings. If you have a considerable amount of listings in your account, tags are a convenient way to quickly find the one you are looking for.
It is important to note that tags are for organizational purposes only and will not affect the performance of your listings themselves.
We hope this article has helped you clear up some doubts about Google My Business and why it is a necessary tool for your business.
Remember, to improve your online presence and stand out on Google and Google Maps, having a review and customer experience management strategy can make all the difference. You can count on RAY, a comprehensive solution that can help you improve your Google reviews, rank high in search results and provide an exceptional customer experience.
5. Keep learning with these articles
Hopefully, by now you have a solid understanding of Google My Business and you can continue reading more articles that will help your brand or business on our Blog. Create a Google My Business account and help expand your business.