Understanding the definition of a Mystery Shopper and learning how to take advantage of this resource is of paramount importance for companies that aspire to raise the quality of the customer experience and improve satisfaction levels.
In a Mystery Shopper analysis, questions are posed to salespeople in order to assess their ability to respond professionally to the expectations of a potential customer with high demands.
Let's explore in more depth what it means to be a mystery shopper and what are the essential features of this feature.
1. What is a mystery shopper?
It is a secret evaluator, also known as mystery shopper or anonymous customer, represents a person appointed by a company to discreetly verify the quality and efficient functioning of its business services, such as sellers, advisors, cashiers, among others, as well as customer service, such as after sales.
The information collected after the visit of these secret evaluators to a store allows the company to adjust its sales strategies, management and quality of service with the aim of increasing commercial profits.
The Mystery Shopper, as a tool, allows companies to evaluate customer satisfaction in order to innovate and expand their customer base. Without these reports, companies could lose valuable data for business success.
The assessment carried out by the mystery buyer is based on a number of specific criteria. These evaluators are highly attentive to the details and, after their visit, answer a questionnaire they give to their recruiter for further analysis.
Now that we've clarified what a mystery shopper is, let's dig into its role and how it performs its evaluations.
2. Steps to make a study of mystery shopper
The steps to learn how to conduct a Mystery Shopper Studio are as follows:
Defining a clear strategy
It is crucial to begin by establishing a sound strategy. This involves identifying the objectives of the study, recognizing the least effective strategies and defining the problems that are sought to be solved. This stage lays the foundation for improving the customer experience and determining the right tools to achieve it.
Customer orientation
One aspect that should never be overlooked is the customer's perspective. Companies often create strategies that focus on their own needs, rather than those of their customers. To avoid this, it is essential to consider the critical moments in which to assess customer satisfaction, their expectations of the brand, the competition and the way they communicate with the company.
Segmentation and target
In order to carry out an effective study, it is necessary to clearly identify and segment the target audience. Once you have defined who they are, you can set the rules and parameters that fit the study.
Development of a formal assessment
Based on the factors that influence the study, a formal tool is created that allows evaluating the performance after the interaction with the brand. This is done in order to determine whether the study will contribute to achieving the established objectives.
Creating hypothetical scenarios
A key step is the creation of scenarios. The study should be trained in how to respond to each scenario. This ensures the quality and overall success of the study by ensuring that relevant situations are being evaluated.
Study analysis plan
A plan is created that defines the expected results during the study. This involves establishing key questions, assumptions, and evaluation criteria related to the topics to be addressed. A solid plan facilitates the validation or rejection of the results obtained in the study process.
Following these steps, a Mystery Shopper Studio can be carried out effectively and aimed at improving the customer experience.
3. Responsibilities of a mystery shopper
They are varied and encompass research and quality control tasks anonymously. For example, you will be involved in evaluating services in a restaurant, adopting a common customer identity.
Another of his duties is to carry out a thorough observation of the events, always keeping a discreet profile to avoid being discovered.
The mystery shopper primarily performs its work physically at specific locations, but it can also perform assessments via calls or online visits if the company has a web presence.
In short, your task is to verify the application of a set of predetermined criteria on a specific topic. For example, when evaluating how employees receive a new customer when entering a store, one of the mystery customer's roles may be to confirm the use of courtesy phrases.
The evaluation criteria are established in advance in collaboration with the company that seeks to evaluate the quality of its services, and all these criteria make up the evaluation table.
4.How to implement this strategy with RAY
4.1. Get comprehensive feedback
With its personalized surveys and connection to Google MyBusiness profiles for branches of a brand, RAY allows you to get complete and detailed feedback from both interactions in physical locations and on social media platforms.
This means that not only is the experience in the physical place assessed, but also how it is reflected in the perception of the online brand. By taking a broader view, companies can address problems in both the real and digital worlds.
4.2. Detects challenges and opportunities for improvement
RAY's artificial intelligence is able to analyze large amounts of data and patterns in real time. This means that you can identify areas where the operation of the company can be more efficient and effective. By highlighting challenges and opportunities for improvement, organizations can take proactive steps to optimize their processes and services.

4.3. Raises the quality of the customer experience
RAY not only identifies issues, but also helps improve the customer experience. By knowing the areas that need attention, companies can implement specific changes to ensure a more satisfying experience for their customers. This may include improvements in customer service, speed of service, or customization of offerings.
4.4. Detects operational process issues
RAY's ability to analyze large-scale data allows it to identify operational process issues that may otherwise go unnoticed. This may include issues related to logistics, inventory management, or even workforce efficiency. By addressing these issues, companies can improve the quality and efficiency of their operations.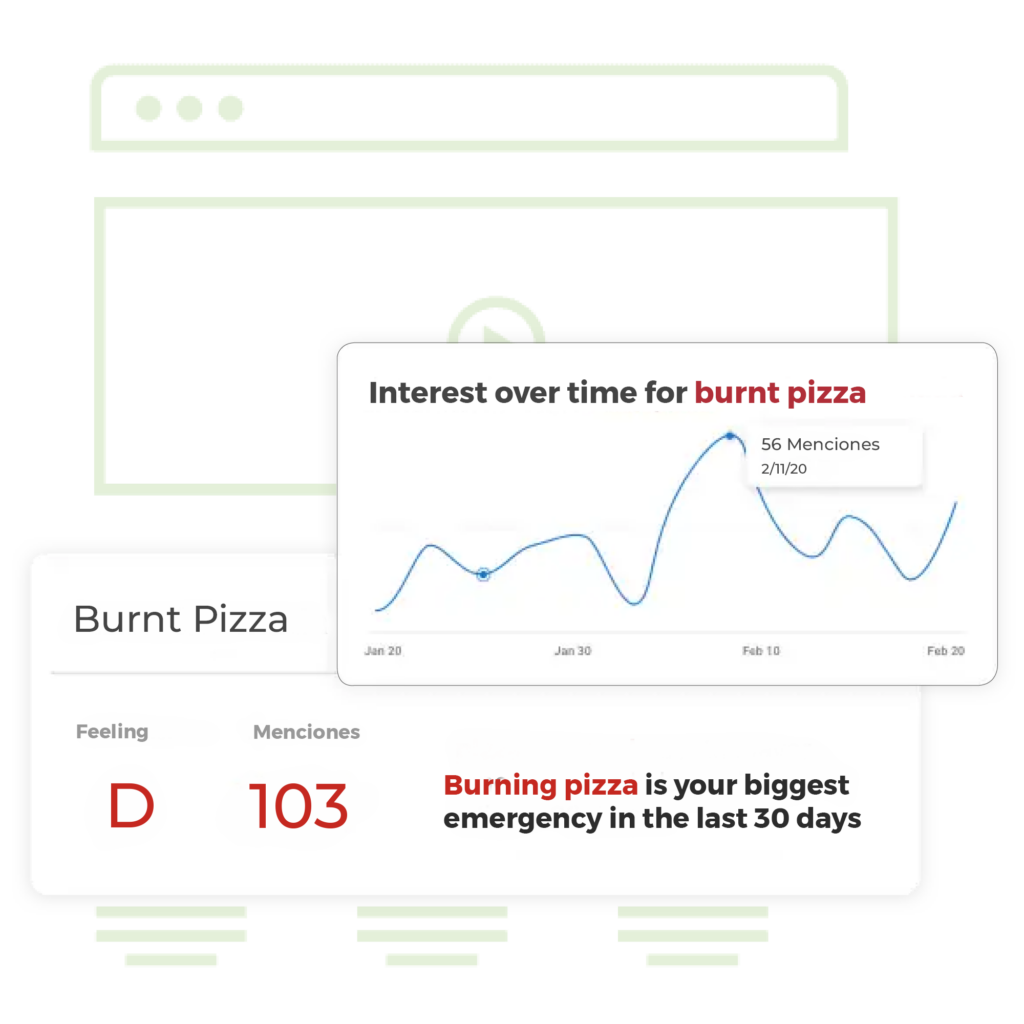 4.5. Assess the impact of changes on customer satisfaction
RAY not only helps identify issues, but also allows you to assess how the changes you have implemented affect customer satisfaction. This means that companies can accurately measure whether the improvements implemented have had a positive impact on customer perception and satisfaction.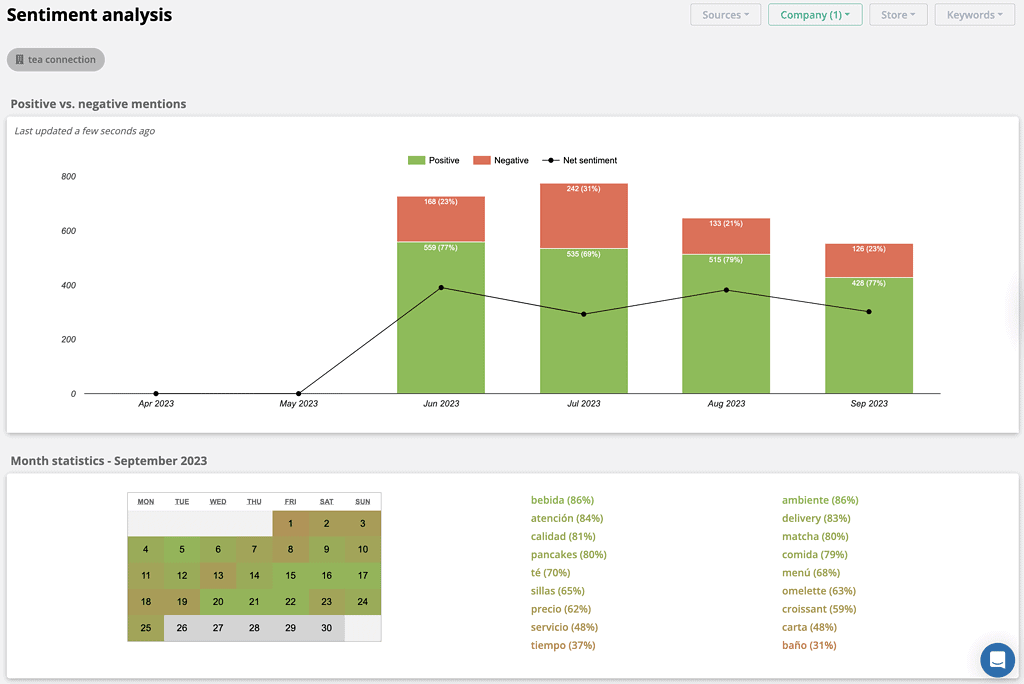 4.6. Increase sales
By improving the customer experience, identifying opportunities for improvement and optimizing operational processes, RAY contributes directly to increased sales. Satisfied customers are more likely to repeat purchases and recommend the brand to others, which can drive revenue growth significantly.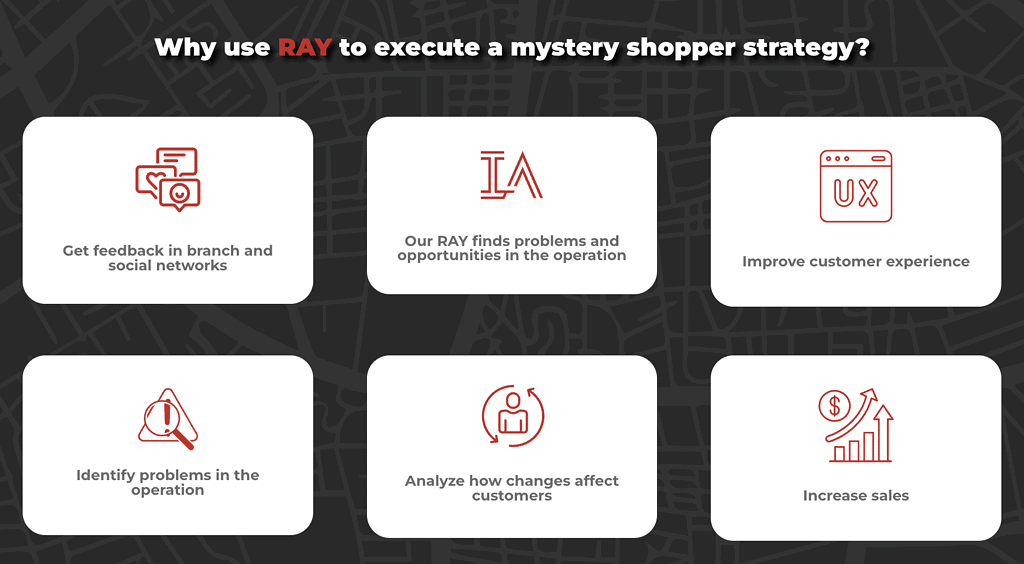 We hope this article has helped you understand how a mystery shopper strategy can help you improve your business.
Remember that, to improve your online presence and excel at Google and Google Maps, having a review management strategy and customer experience can make a difference. You can count on RAY, a comprehensive solution that can help you improve your Google reviews, position yourself in the top search places and provide an exceptional experience to your customers.
5. Keep learning with these articles
Hopefully, by now you've figured out what a mystery shopper is. You can continue reading more articles that will help your brand or business in our Blog.