A Customer Jorney or customer map is a diagram (or several diagrams) that represents the stages customers go through when interacting with a company, from purchasing products online to accessing customer service over the phone and filing complaints on social media.
To create effective visual maps that reflect customer journeys across these channels, a Customer Jorney should be based on research that takes your company's data and should visually represent the different phases that customers experience based on a variety of dimensions, including customer sentiment, goals and touch points.
To be comprehensive, companies often need to create multiple Customer Journeys based on a 360-degree view of how customers interact with the company. For example, a journey map might start with a customer using Google reviews to comment on a company, product or brand, then using the phone to reach a customer service line, and finally using the company's website.
1. Understanding the customer journey
Reasons to create a customer journey map include understanding the route and channels your customers take to get your product. It is a valuable tool that can also be used to forecast the path of future customers.
Creating a customer journey map can provide valuable information for all levels of a department, from a sales rep who needs to discover the best ways to interact with potential customers to managers seeking information on which outlets customers use the most. It can also highlight gaps or detours and can identify gaps in the customer experience (CX), which include:
Read more about: Customer Experience (CX)
Device-to-device gaps, when a user moves from one device to another;
Gaps between departments, where the user may feel frustrated; and
Gaps between channels, where the experience of moving from social media to the website could be better.
Perhaps the main benefit of mapping the Customer Journey is that it provides clear information about how customers move through the sales funnel. Maximizing the efficiency of that path means more sales at a faster rate. In addition, understanding the customer experience is vital for sales and marketing to understand the customer experience.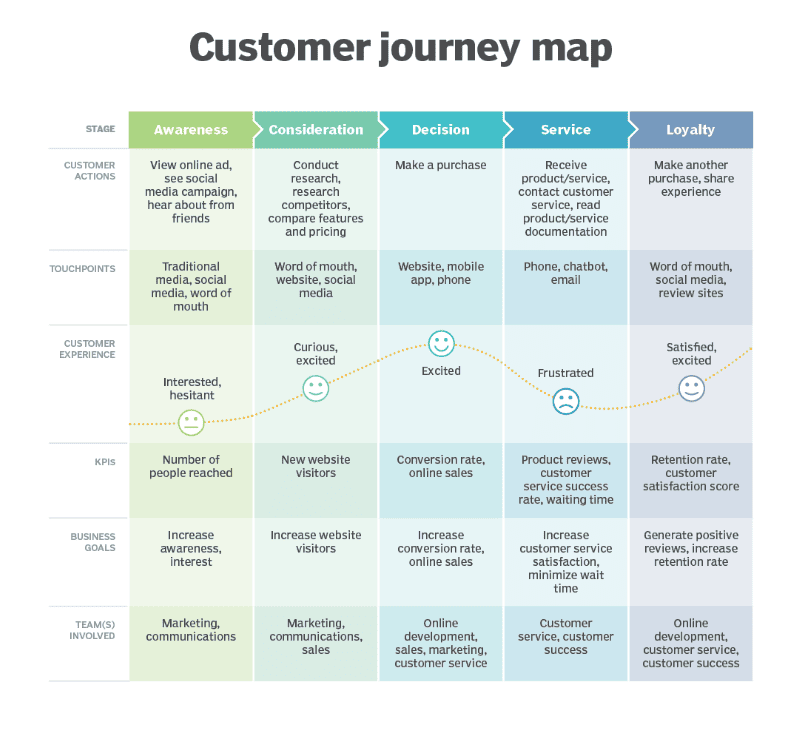 2. Components of a customer journey map
A customer journey map is made up of several components, including:
2.1. Customer stages
One of the first steps in creating a customer journey map is to identify the stages it has. There are at least four stages in the customer journey: inquiry, comparison, purchase and installation.
2.2. Buyer personas
A buyer persona is a composite representation of a market segment. It is an important tool for creating journey maps because CX teams can more accurately predict the behaviors and feelings of those customers using personas.
2.3. Customer touch points
A customer journey map should always include touchpoints that a customer is likely to use at each stage of the journey. For example, during the installation or service stage, a customer may use phone calls or chatbots to communicate with a brand.
2.4. Emotions
One of the main objectives of creating a customer journey map is to predict customers' emotions and feelings. In this way, a brand can identify potential weaknesses and successes.
3. How to create a Customer Journey
Every stage of the Customer Journey is vital for sales and marketing departments.
The customer journey begins when a customer inquires about a product or service. At that point, they become a prospect. The comparison stage is where customers use readily available information about different products in a given market to compare features, prices, customer service ratings, among others. The purchase stage is when the prospect becomes a customer, which triggers the service department to begin the final phase: installation.
There are important requirements for mapping customer journeys effectively.
Focus on the customer's perspective: The journey map should focus on how a customer experiences interactions, not how the company perceives those experiences.
Count by customer segments: Take into account the fact that different customer segments experience products, brands and services differently.
Make sure maps reflect all touch points: Maps should reflect all potential communication points through which customers want to connect with companies: email, text messages, websites, social media platforms, among others. Maps should also reflect different sequences for these maps, where customers take different paths.
When designing a customer journey map, there is no set protocol, but there are guidelines, including that it should be visually appealing, comprehensive and understandable. Typical client journey maps include infographics, diagrams and timelines. Multimedia has also been used for client journey maps, including videos and storyboards.
Remember, to improve your online presence and stand out on Google and Google Maps, having a review and customer experience management strategy can make all the difference. You can count on RAY, a comprehensive solution that can help you improve your Google reviews, rank high in search results and provide an exceptional customer experience.
4. Keep learning with these articles
Hopefully, by now you have a solid understanding of what the Customer Journey is and what its benefits are, you can continue reading more articles that will help your brand or business on our Blog.