What is the best days and times to post on Instagram to ensure your content gets visibility? Through data analysis, we reveal the ideal universal times to post on Instagram. However, keep in mind that every business and audience is unique, so we'll also help you figure out the best custom posting times for your brand.
1. What is the best day and time to publish?
Every brand has a slightly different optimal time to post on Instagram. This is because every brand on social media has a unique audience with different behavioral patterns.
However, there is no reason to lose hope. Social media marketers can follow certain best practices that provide excellent results across the board.
Instagram's algorithm prioritizes timeliness, so posting when your followers are online is key. This means that, under similar circumstances, a more recent post will show higher in the news feed than an older one.
Honestly, newness is one of the quickest and easiest ways to optimize a post for success. (Although we have plenty more tips on how to get Likes on Instagram for free, if you're interested).
But beyond that, it's also important to be clear about your goals in your Instagram marketing strategy. Do you have specific goals in terms of building awareness, increasing engagement, or generating traffic? How do you define success and when have you achieved that success in previous posts? Your past accomplishments are a critical guide for determining when you should post in general.
2. The best day and time to post on Instagram
The optimal universal time to post on Instagram is 11 a.m. on Wednesdays.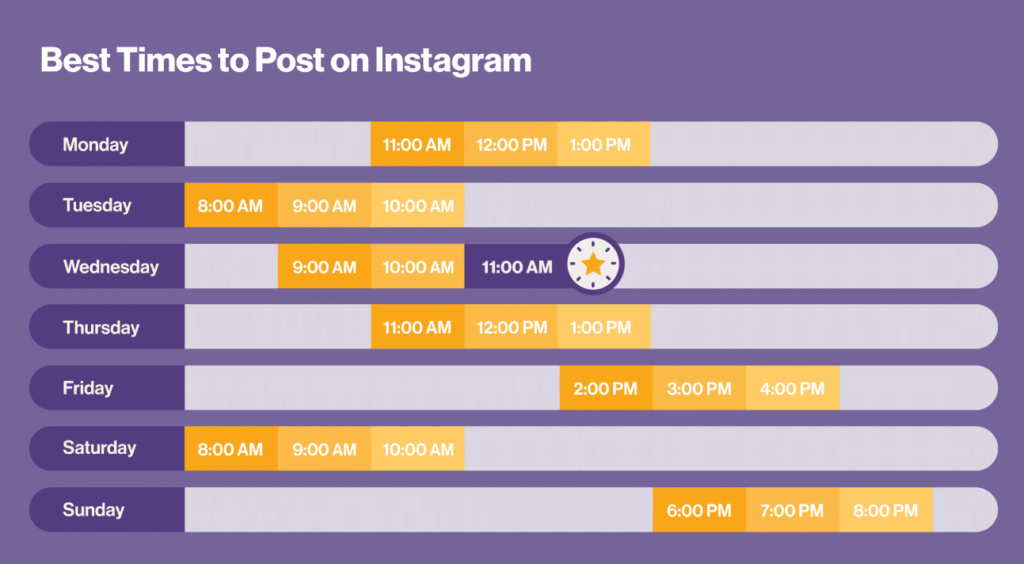 We've found that Instagram users tend to interact more with content during business hours around noon and mid-week. This makes sense, as it's a perfect time to take a break from work or school and spend some time browsing the platform. (And giving "Likes" and comments, of course).
Weekends are generally the days with the lowest engagement and are not the best time to post. We suspect this is because people tend to be out and about, engaged in real-world activities rather than spending time on Instagram.
Do you plan to post more than once a week? Here's a breakdown of the best day and time to post on Instagram for each day of the week.
(Oh, and don't forget that the best times below are recorded in the U.S. Pacific time zone).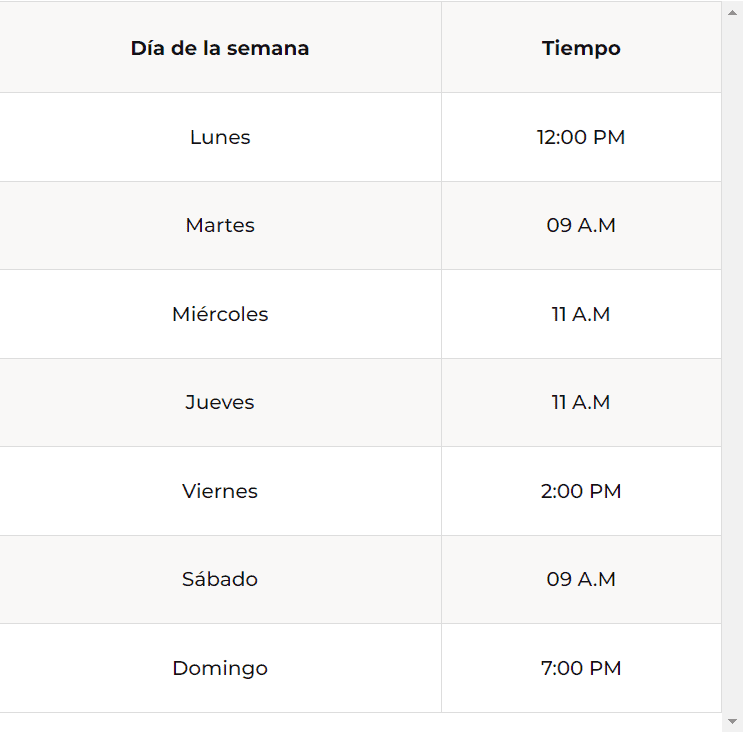 If you're in the early stages of your Instagram presence and don't have a lot of background data or information about your audience, we suggest you try posting at these peak times.
As your account grows, we recommend adjusting your posting schedule to match the activity patterns of your specific audience.
2.1 What is the best time to publish on Monday
12:00 p.m. on Mondays is the optimal time to post on Instagram. It seems that most Instagram users enjoy starting the work week on a positive note. During the lunch hour, they look for a break and spend time scrolling through their Instagram feeds.
2.2 What is the best time to publish on Tuesday
9:00 a.m. on Tuesdays is the ideal time to post on Instagram. User engagement is also high in the early morning hours between 8:00 a.m. and 10:00 a.m., but peaks around 9:00 a.m.
2.3 What is the best time to publish on Wednesday
At 11:00 a.m. on Wednesdays is the most conducive time to post on Instagram. Also, Wednesdays seem to be the day when accounts get the most engagement overall.
2.4 What is the best time to publish on Thursday
The best time to post on Instagram on Thursdays is 12:00 p.m. In general, the period from 11:00 a.m. to 2:00 p.m. is conducive to high engagement on any day of the week.
2.5 What is the best time to post on Friday
The best time to post on Instagram on Fridays is at 2:00 p.m. Engagement on Fridays remains constant throughout the morning and lunch hour, from 7:00 a.m. until 2:00 p.m.
2.6 What is the best time to publish on Saturday
The best time to post on Instagram on Saturdays is at 9:00 a.m. Take advantage of people's attention before they dive into their offline weekend plans.
2.7 What is the best time to publish on Sunday
The best time to post on Instagram on Sundays is at 7:00 p. m. Engagement on Sundays remains fairly steady during the afternoon and evening, and remains stable from 12:00 p.m. to 8:00 p.m.
3. More tips to find the best time to publish
3.1 Review your publications with better performance
First, consider the type of return you're looking for: do you want to increase brand awareness or drive engagement with your followers? Your approach to scheduling Instagram posts can vary depending on your goals.
Analyze the performance of your previous posts: which ones got a lot of impressions and when did you post them; are there differences between these successful posts and those that received more "Likes"? Examine the numbers to identify what type of content generates the most interest.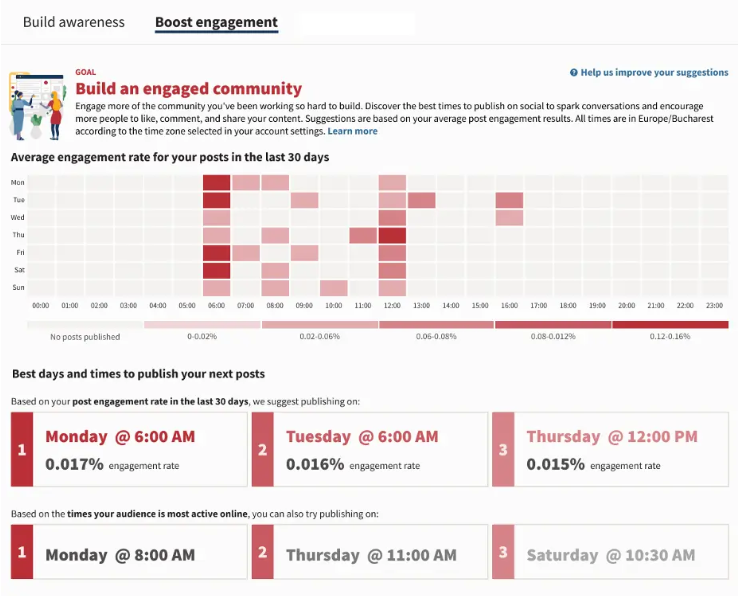 3.2 Check when your audience is most active online
Next, examine your analytics to determine the times when your followers are most active on their Instagram feed.
If you're targeting college sports fans on Instagram, chances are their social media usage is very different from tech execs who wake up at 4 a.m.

3.3 Consider when your competitors publish
Depending on the industry you're in, your competitors may be conducting similar calculations and experiments as you. Social listening (including a thorough competitive analysis of social media) can be helpful in monitoring what's working for others.
A pro tip is to avoid competing directly with other brands by posting at exactly the same time. Many brands tend to post on the dot on the hour. To avoid direct competition, you can choose to post a few minutes before or after the exact time.
3.4 Post in your audience's time zone
If your audience is scattered all over the world or you are in an unconventional time zone, your best time to post and reach the maximum audience may be at 3 a.m.
Remember that all this data can be obtained in the statistics of your Instagram profile, we also recommend you to visit Hhttps://www.hootsuite.com/ootsuite, there you can access tools that will allow you to see many more statistics for your business.
We hope this article has helped you clear up some doubts about what is the best time to post on Instagram.
Remember, to improve your online presence and stand out on Google and Google Maps, having a review and customer experience management strategy can make all the difference. You can count on RAY, a comprehensive solution that can help you improve your Google reviews, rank high in search results and provide an exceptional customer experience.
4. Keep learning with these articles
Hopefully by now you have a solid understanding of the best day and time to post on Instagram, you can continue reading more articles that will help your brand or business on our Blog.