If you are a small business owner and you don't pay attention to Google reviews, you are wasting a great opportunity for growth. Google reviews are extremely important and in this article we will show you how to leverage Google reviews to sell more.
1. How to get more reviews from your customers on Google
1.1 Step 1: Ask your customers for a 'favor'
If your customers have had a positive experience with your business, they are likely to be willing to express this through a positive review. By asking them for this "favor," you give them the opportunity to contribute and show your confidence in them. Interestingly, by framing it as a favor, you reduce the feeling of obligation and increase the likelihood that they will comply with your request.
By earning several "favors" in the form of positive reviews on Google, you not only demonstrate your customer satisfaction, but you will also benefit from the fact that Google automatically highlights three of these reviews in your Google Reviews Summary section.
It is important to remember that, in addition to getting customers to leave business reviews on Google, Google's algorithm also takes other factors into account when ranking and crawling these reviews.
1.2 Step 2: Give them a reason to write a review
Providing a reason for your request can increase the likelihood that your customers will agree by 33%. A study conducted by a Harvard professor in 1978 revealed the impact of the word "because".
Research concluded that giving someone a reason why you are requesting something increases the success rate, regardless of the reason itself.
When requesting a review, it's important to include a reason. Adding phrases like "because we'd love to hear your feedback" or "because we care about your opinion of our business" can make a big difference in your response rate to reviews.
While there are more technical reasons to request reviews, such as improving local SEO, establishing online authority and providing recent feedback to potential customers, it's advisable to keep explanations simple and straightforward.
1.3 Step 3: Thank them for being willing to leave a review.
In customer service, expressing gratitude is always recommended.
A study on responses to cold emails revealed that response rates increased significantly when gratitude was shown beforehand.
Similarly, when a company shows appreciation by getting feedback from customers through reviews, this can generate a stronger, more positive connection.
1.4 Step 4: have a script and a process
Let's see how these tips, when combined, work to increase review generation. We invite you to use this script as a base or customize it according to the specific needs of your business.
"Hello __ [customer name]! I wanted to thank you for visiting us today. Would you mind doing me a favour?"
The customer responds affirmatively
"Would you be willing to write a review about your experience here? Because it really helps other customers make the decision to come."
The customer responds affirmatively
"Thank you! We greatly appreciate your willingness to do this. You will receive a review request from our office shortly. Just follow the review link we've sent you – it's really simple!"
A satisfied customer is likely to respond positively if simply asked. By simplifying the process and incorporating a little psychology, you'll be on your way to getting a positive set of reviews.
1.5 Step 5: find a review software that automates the process
The review software gives you the ability to request a review from customers immediately after their interaction with you, allowing you to receive feedback at the most opportune time.
2. Ask your customers for Google reviews
Are you aware that 71% of consumers would be willing to leave feedback if asked, while 30% of consumers have never received a request? Even informal requests can be effective and are certainly less intimidating.
3. How to leave a review on Google
Let's start from the beginning. There are two different methods for leaving reviews on Google: through a web browser or through the Google Maps application. The process differs in each case, and yes, your customers will need to have a Google account to do so.
3.1 Write a Google review from your browser
Log in to your Google account and search for the company you wish to review.
Look for the review area (next to the star rating in your search results, or under the facility name in the sidebar in Google search) and click on the blue font that says "WRITE A REVIEW".
Rate the business from 1 to 5 stars (higher numbers indicate a positive experience), write about your experience and click "PUBLISH" when you are done.
3.2 Write a review from the Google Maps application
In the Google Maps application on your phone, search for the company you wish to review.
Maps will return a search result with a map that includes a banner at the bottom about the business. Click on that banner.
Scroll down in the window that appears until you reach the reviews section. You will see five unpopulated stars with your profile picture above them.
Click on "POST" to leave the review.
4. How to remove a review from Google
If you're a business owner, chances are you've faced negative reviews on occasion. These reviews may be the result of misunderstandings with customers or even mistakes on the part of your team, in which case you should address them immediately.
Unfortunately, there are also fake negative reviews that come from competitors who are trying to damage your reputation. Some competitors may deliberately post false negative reviews about your business. In these cases, you will need a strategy to remove the reviews from Google.
It's important to note that this strategy is not always guaranteed to work, but it has been successful on several occasions, so it's worth a try.
4.1 Step 1: Search the review on Google
Locate the fake Google review you are trying to remove.

4.2 Step 2: Mark the review
Locate the review left by your competitor and click on the flag. To display the flag, you must hover the cursor over the review.


4.3 Step 3: select your reason for marking the review
When you click on the flag, you will see these options:
Click on the circle indicating that the publication is a conflict of interest. Take a screenshot of your completed form and save the screenshot with the date.
After about a week has passed, check to see if the fake review has been removed.
Click on Spam and Policy and you will be taken to a page that looks like this: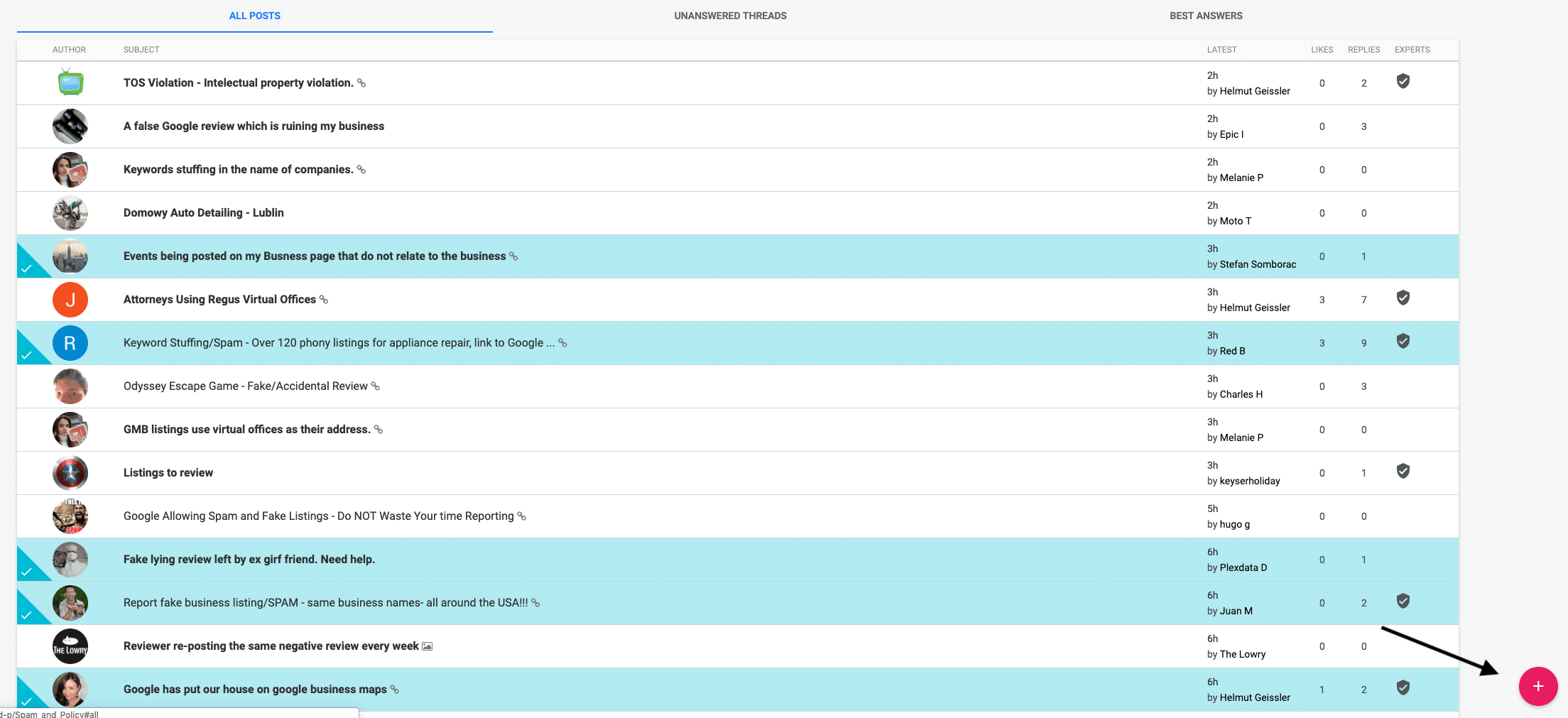 4.5 Step 5: submit your case
Click on the plus sign in the lower right corner to start your forum posting.
This forum generally responds very quickly, so you should know within the day if your report will be escalated.
Discover how RAY can boost your brand's success by putting the voice of your customers at the center. Our services are designed to help businesses and franchises improve customer experience, get reviews on Google and achieve a prominent position on Google and Google Maps.