Apple Maps has over 200 million users and can help more potential customers find your business. In this article learn how to add, claim and optimize your business profile on Apple Maps.
1. How to add and claim your company
Apple Maps has not always enjoyed the best reputation. It was plagued by a turbulent initial launch and inaccurate listings. In fact, Apple CEO Tim Cook eventually apologized for the frustration the app caused when it first launched.
However, as we all know, Apple does not give up. Developers continue to improve Apple Maps. Today, the company is focused on creating next-generation maps with greater accuracy, faster load times and more detail. Apple is also introducing more indoor maps of airports and shopping malls all the time, proving that it can offer innovative tools to help users find a better way.
1.1. Create an Apple ID (if you don't have one)
To add your company, you must create an Apple ID. To do so, provide simple information such as your name, date of birth, email address, password, and answers to security questions. It only takes a couple of minutes to set up an Apple ID, and it's completely free to sign up.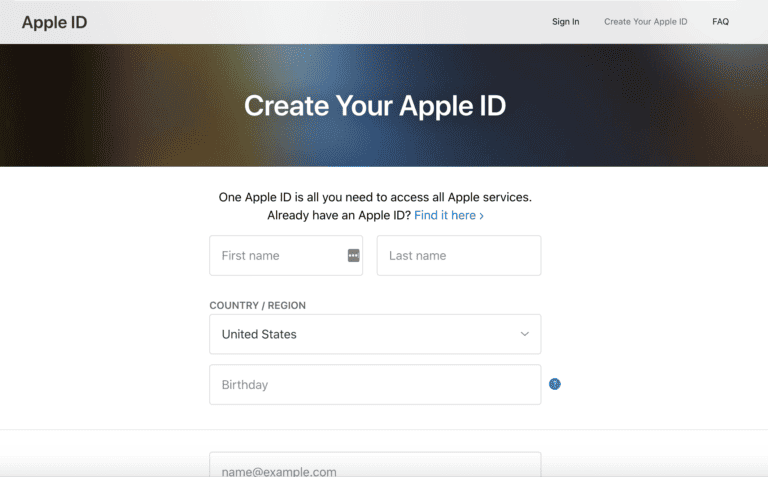 1.2. Log in to your account
Before adding your business to Apple Maps, log in to your Apple account with your existing account or the new account you created.
1.3. Access Apple Maps Connect
Apple Maps Connect is the central page where you can add your business. Simply follow the prompts to start your listing.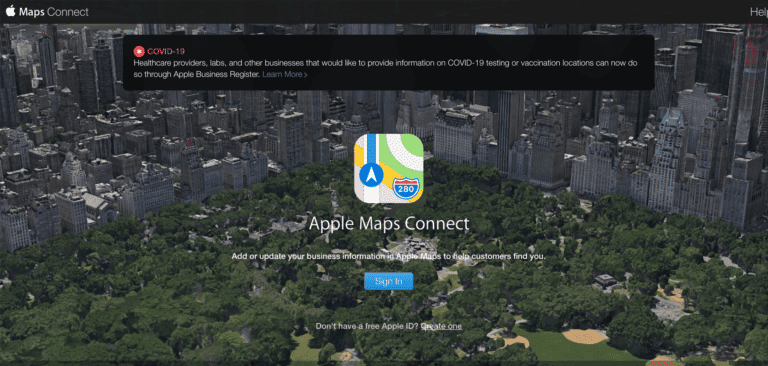 1.4. Select a language and notification preferences
The first thing you will be asked to do is to select a language. Enable or disable receiving information from Apple Maps. Since this may include key updates and notifications, we recommend that you subscribe to stay up to date. However, if your inbox is already too full, you can opt out.
1.5. Search to see if your company is listed on Apple Maps
Your company may already be listed on Apple Maps. Before starting a new listing, search to confirm if your listing has been created.
1.6. If you do not include your business, click on "add new location"
If your business is not yet listed on Apple Maps, don't worry. You can add your listing from scratch. Just click "add new location" to get started.
1.7. If Apple Maps includes your business, claim it
If you find your business, you need to claim it. Simply click on your business listing to see a more complete profile. Review the information to make sure it is accurate. Then, click on the "claim this place" box to claim the business listing.
1.8. Accurately enters business information
Whether you claim an existing listing or enter a new listing, make sure the profile information contains relevant, accurate and keyword-rich information. To find your business, customers need up-to-date, factual information. Make sure your address, hours, phone number and associated social media accounts are up to date.
1.9. Verify your business
Apple will simply call your business number to give you a verification code. If you are not ready to answer your business phone when you register, you can also choose to verify later.
2. Benefits of Apple Maps
Adding your business offers countless benefits. As it improves and grows, these benefits are likely to evolve as well.
2.1. Get greater access to Apple users
With over a billion Apple devices in use worldwide, all business owners can benefit from reaching this huge customer base. While many of these customers use other navigation apps, some already use it, so listing your business there can help connect you with these potential customers.
2.2. Connect with customers looking for nearby businesses
Potential customers often use Apple Maps when they are away from home. Including your business can help customers find your business when they're nearby, making it easier for them to visit and hopefully buy.
2.3. Apple Maps is adding new features
Apple products never stop evolving and Apple Maps is no different. The app is experimenting with Business Chat (currently in beta) that will allow businesses to communicate with their customers directly through it, allowing you to provide top-notch, on-demand customer service when you need it most. 
If you're looking to improve your business' online reviews, RAY helps retailers and franchises improve customer experience, Google reviews and rank on Google Maps. Online reviews play a crucial role in consumers' purchasing decisions and can significantly influence the reputation and success of a retail business. This customized application provides the opportunity to foster a satisfying user experience and facilitate customer interaction.
3. Keep learning with these articles
Hopefully, by now you have a solid understanding of how to add your business to Apple Maps, you can continue reading more articles that will help your brand or business on our Blog. Remember that RAY can help you improve your customers' experience.