This article explains in detail how to list your business on Google Maps, one of the most valuable tools Google has provided the world. It goes beyond simply being a convenient way to navigate without using paper maps (which are cumbersome) or asking strangers for directions (which can be even worse).
In reality, Google Maps presents itself as an extraordinarily powerful marketing tool, and here we'll give you some tips on how to get on Google Maps and get your business noticed.
We'll explore the key features and must-do actions to take, along with some clever, lesser-known tips and tricks to make it easier for your customers to find you.
1. What is Google Maps marketing?
It refers to using Google Maps features to increase the visibility of your business and make it easier to find. While this is especially useful and expected for large businesses, it is even more indispensable for smaller businesses.
Google Maps marketing is not just limited to visibility, it also involves positioning your business, not only physically, but also online. If used correctly and strategically, Google Maps can play a significant role in your digital marketing strategy.
2. The goal is to rank high on Google Maps
The goal of marketing and appearing on Google Maps is not just to rank higher on Google Maps, but to rank as high as possible in the local business results listings on the relevant search results pages of Google's search engine. Let's see what this translates into.
2.1. Google Maps results based on proximity
The first type of listing on Google Maps is based on the physical location of the business. With the increasing use of mobile search, this type of search (and the result on Google Maps) has become increasingly common. If you've ever searched for a specific type of business from your mobile device, chances are you've found a result like this: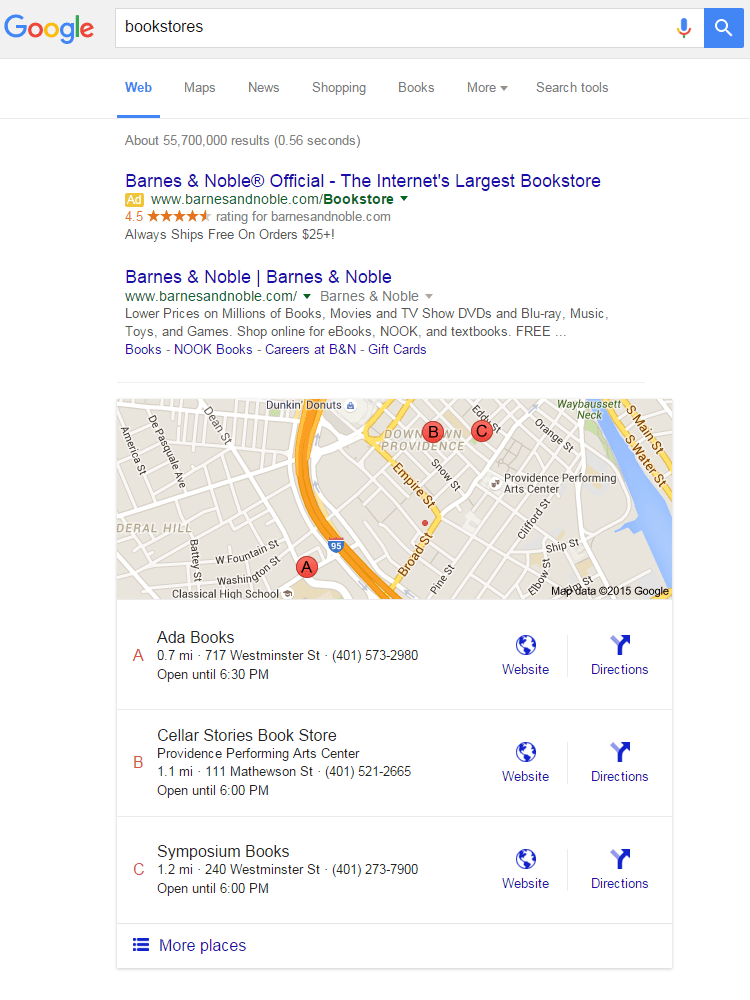 In the example above, I performed a search for "bookstores" and got these results. As you can see, Barnes & Noble takes the top spot thanks to its ad, as well as the top organic result. However, what we are really interested in are the Maps results.
2.2. Google Maps classified results
While Maps results based on proximity are common, they are not the only results offered by Google Maps. Not all users have the location data feature enabled on their mobile devices, and Maps listings are available for virtually any destination in the world, not just those near the user's location. It is in these cases that Google Maps "ranked" results usually appear. These results are displayed in Google Maps searches for businesses of a certain type in a specific location. For example, in the image below, you can see Maps results for "dentists" in Beverly Hills, California: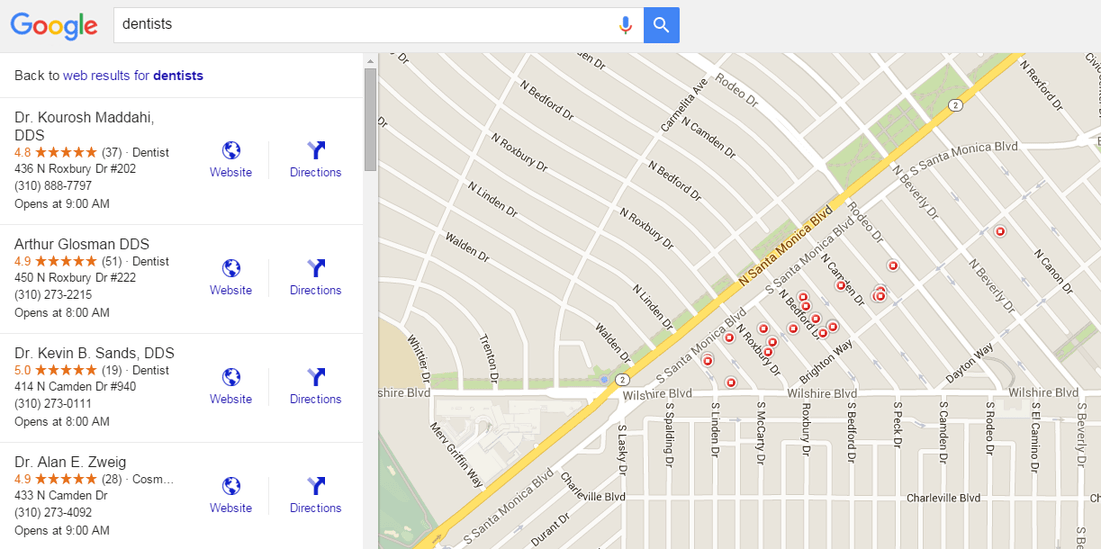 As you can see, Beverly Hills has an ample supply of dental professionals (after all, it's important to keep those teeth pearly and shiny for the cameras), making this market highly competitive in terms of marketing results on Google Maps. At the top of the list is Dr. Kourosh Maddahi, owner of a dental practice on North Roxbury Drive, with an average rating of 4.8 stars out of 37 Google reviews from patients.
This is where the "marketing" part comes into play and how important it is to appear on Google Maps while keeping the Google My Business profile well optimized, along with some other factors.
3. What is Google My Business?
Google My Business is a tool that allows business owners the opportunity to have a business profile for their company, which can appear in Google search results. Almost any type of business (with the exception of some specific establishments) can have a business profile on Google My Business, which displays relevant information that users may want to know, such as address, opening hours and customer reviews.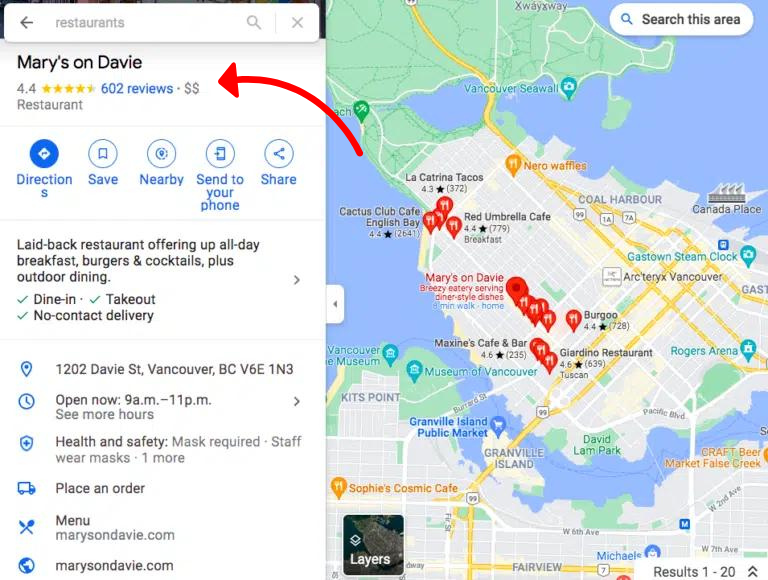 4. Update this data to rank high in Google Maps
We will give you some verification tips to improve and optimize your Google Maps business profile and get maximum visibility.
4.1. Define the areas in which your business serves
There are companies that have a physical store or a specific location, but also provide services in a wider area. For example, let's think of pizza delivery services or courier and parcel delivery companies. If this is the case for your business, it is crucial to indicate in your Google My Business profile the service areas you cover. This can include the names of nearby towns or cities you serve, or even set a geographic radius (in miles or kilometers) from your physical location.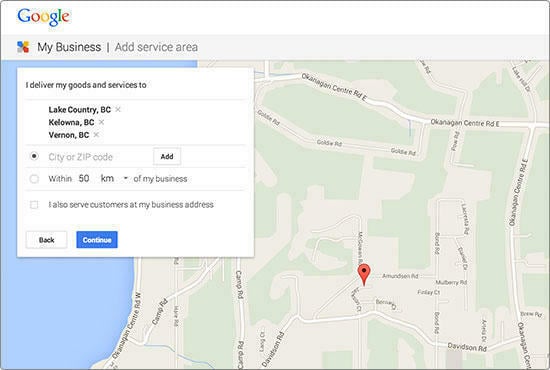 It is also important (and advisable) to specify whether you actually serve customers at the main physical location of your business. If not, you do not want people to come to your location expecting to be served, especially if your business is dedicated, for example, to offering services exclusively over the phone.
4.2. Verify your Google My Business profile
In order to list your business on Google Maps, the first step is verifying your Google My Business profile. The verification process can take a few weeks, as Google generally sends a postcard with a unique PIN to the physical address provided in your Google My Business profile to confirm verification. In some cases, Google also allows phone verification for certain businesses.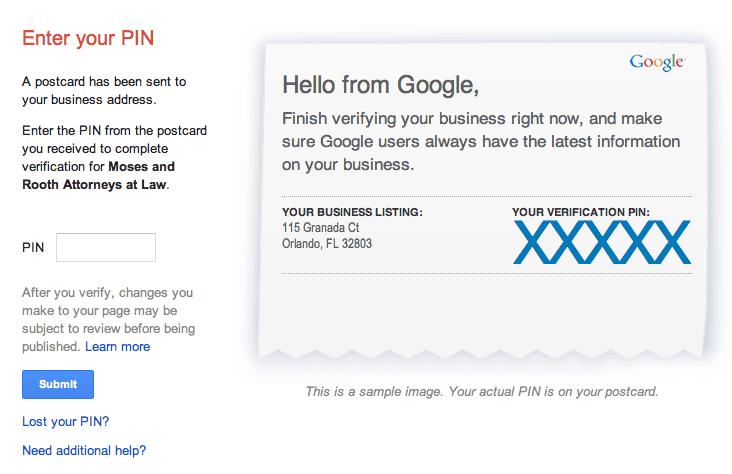 If you need more help verifying your profile, you can read more in this article.
4.3. Check all categories relevant to your business
It is common for many businesses to only mention their main category when setting up their Google My Business profile, but this represents a significant missed optimization opportunity. While it is necessary to include the main category when creating your Google My Business, it is also possible (and advisable) to include additional categories that are relevant to your business.
This step becomes especially important if your business offers a wide range of related services. For example, if you run a digital marketing agency, you can set "internet marketing" as your main category and include additional categories such as SEO, content marketing, email marketing and social media advertising. This will allow for a more accurate and detailed description of the services your company offers.
4.4. Optimize your business summary text
The Google My Business introduction can be thought of as a summary of your company, the products and services you offer, as well as the aspects that differentiate you from the competition. Unfortunately, many businesses don't take the time to do this, which represents another missed optimization opportunity.
Your Introduction should include all the relevant information a prospective customer might need about your business, such as what you offer, where you are located and why you are the best in your field. It is possible to insert links to relevant pages on your website in the Introduction, but it is important to be careful not to overuse them or clutter it with keywords.
4.5. Include (and optimize) photos
One of the most important things about to list your business on Google Maps is to provide real photos of your business. Businesses that have a Google profile and include photos are more appealing than those that do not, allowing them to stand out. In addition, including photos can be an optimization opportunity.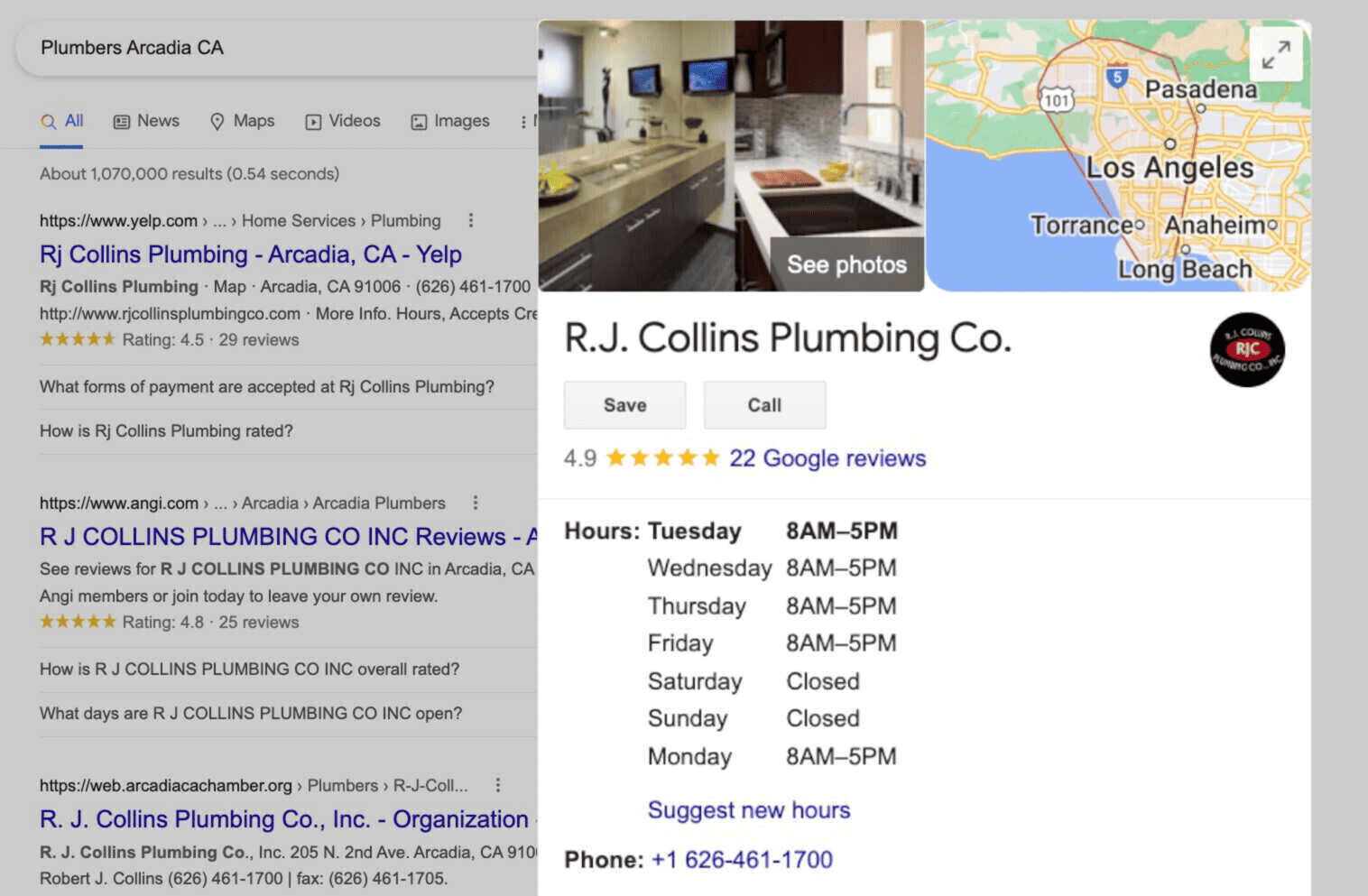 However, including images in your Google My Business profile goes beyond aesthetics, as you can also optimize images to increase their visibility. You can use third-party applications to add metadata to your images, making them easier to find. For example, you can add the following metadata to your images to maximize their optimization:
Physical address / latitude and longitude
City / geographic location / country tags
Keywords relevant to your business
Comments on relevant services offered at your location
Additional information for categorization
4.6. Request customer reviews
Although it is unclear to what extent user reviews influence the Google Maps search algorithm, it is very likely that a business without reviews will have difficulty competing with those that have numerous reviews. Therefore, it is vital that you request and include reviews in your Google My Business profile.
You can read more about how to take advantage of Google reviews in this article.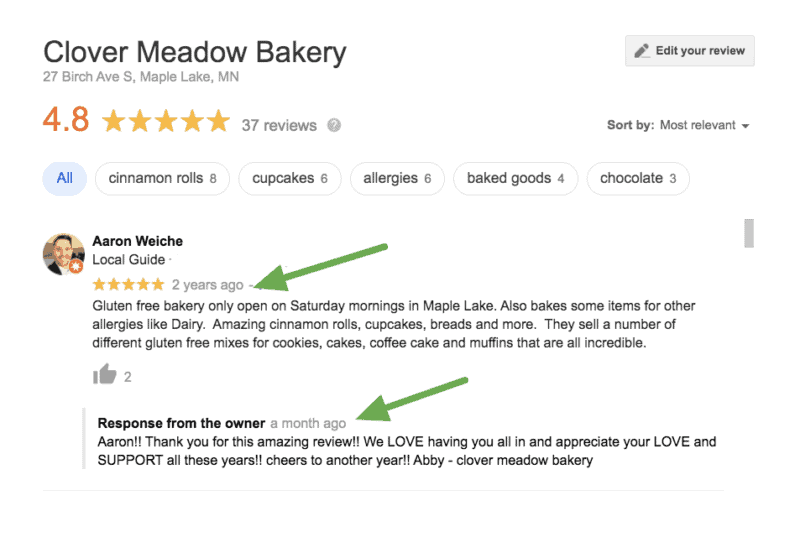 It is important to note that reviews will not be displayed next to your profile on Google Maps until you have accumulated at least five of them. Therefore, be sure to encourage satisfied customers to share their positive experience.
Unfortunately, there is not much you can do about negative reviews other than respond to them by following the guidelines set by Google. Therefore, it is crucial to keep a close eye on what people are saying about your company and respond appropriately.
5. Google Maps Ads
In May, Google announced the introduction of several new advertising features in Google Maps.
There are four main ad features that are new to Google Maps. These include promoted pins, which can display brands and logos; in-store promotions; customizable business pages; and a local inventory search feature. These ads will be displayed in Maps results in both the Google Maps app, desktop and mobile versions of the Google Maps site, as well as in expanded Google.com Map results.
In the main Google Maps application, users will be able to see a single promoted ad at the top of the Maps search results, as shown below:
As can be seen in the image above, the ad flag next to the ad is purple. However, with Google's recent announcement that it will be changing the iconic yellow flag to a green one, it is possible that this will be changed in the near future. In addition, searches performed within the Google Maps application may show up to two ads.
6. The key to growth is to be patient
As with other aspects of digital marketing, improving marketing visibility and appearing on Google Maps takes time and effort. There are no quick fixes, instant results or shortcuts to get to the top. Even if you implement all of the optimizations mentioned above, it may take some time to see improvements in your company's visibility on Google Maps. However, don't be discouraged. Keep working on your optimization efforts, keep your information and profile up to date, and focus your attention on what's most important: providing excellent service to your customers.
We hope this article has helped you understand how important it is for your business to appear on Google Maps and how it will help you get more sales.
7. Keep learning with these articles
Hopefully, by now you have a solid understanding of how to list your business on Google Maps and how to create a Google MyBusiness account and help expand your business.
Remember, to improve your online presence and stand out on Google and Google Maps, having a review and customer experience management strategy in place can make all the difference. RAY can help your business improve your Google reviews, rank higher in search results, and enhance the customer experience your brand offers.